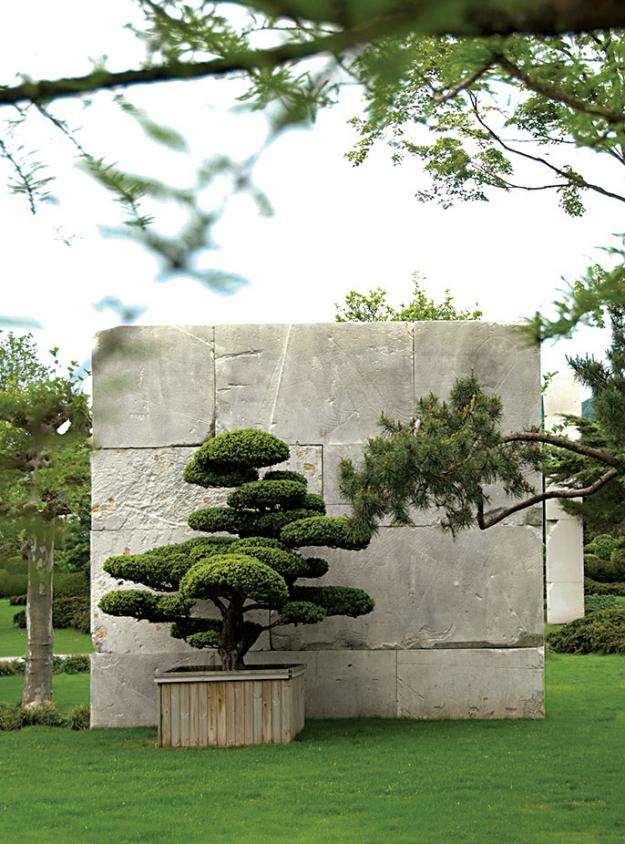 Some collect art or rare books, others vintage cars. But for Swiss landscape architect Enzo Enea, trees are the stuff of a great collection. The transformation of spring buds to lush blossoms or deep greens to fiery reds is a nearly magical event that rivals the making of a masterpiece, after all. So, just as the Mona Lisa has the Louvre, Enea's trove of 120-some trees has the Tree Museum, which he founded in 2010 on the shore of Lake Zurich in Rapperswil-Jona, Switzerland.
The 2.5-acre open-air gallery displays around 22 varieties of trees that Enea spent 17 years collecting and rescuing. To help create this living exhibition (and the adjacent headquarters of his firm, Enea Landscape Architecture), he enlisted Miami-based architect Chad Oppenheim. Although he's best-known for his flamboyant condominiums silhouetted on the Miami skyline, Oppenheim designed a Zenlike landscape, a setting where sculpture garden meets arboretum. Behind each tree stands a 16-foot sandstone wall that works like a frame or a canvas. Here, the subject matter includes Scotch pines and saucer magnolias, English yew and a 130-year-old Japanese red maple.
The Mona Lisa's value may merit bulletproof glass and a climate-controlled case, but the beauty and splendor of Enea's treasures are unparalleled, particularly with autumn descending on them.