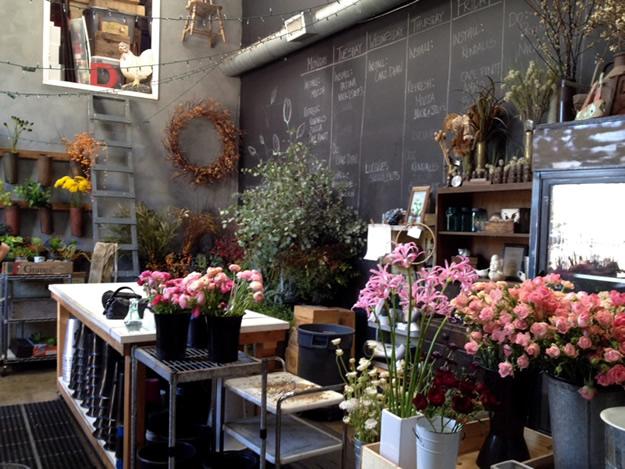 If you've never worked at a florist's shop or spent some time behind their counter, it's tantalizing torture. I endured this firsthand when I helped deliver roses years ago at a friend's florist shop on a busy Valentine's Day. There I was surrounded by beautiful flowers at their most beautiful stages, with their most beautiful fragrances. I just wanted to scoop them all up, put them in pretty vases, and set them all over my house!
On a recent visit to Dandelion Ranch in Los Angeles, the sensations came flooding back. The small and tidy studio was bursting with fabulous flowers and foliage. "Our shop is off the alley at the back of the building…look for the planted car tires," the driving directions read. And sure enough, in an obscure little dome-shaped building was a tucked away treasure trove of floral design.
Dandelion Ranch produces these amazing garden screens. The studio has a rustic charm that transports you from the streets of L.A. to a floral wonderland. A chalkboard painted wall (above) details the week's deliveries.
Even the lists, orders, and reminders fit into the rustic charm of the studio.
Outside, the only sign of flora and fauna were the planted tires, spilling with succulents. Many of the "containers" at Dandelion Ranch are found items, such as the tires and the old piano they're resting on.
Who knew old spring mattresses were a perfect vessel for a vertical garden.
Even the walls of the "ranch," as owner Clover Chadwick calls it, have quirky little details such as the hanging chair and rooster-guarded storage cubby.
See why floral shops are so fun?
On this particular day, Clover was creating centerpieces for a funeral…for a Labrador.
At least on this visit, I was able to take home some of those tantalizing blooms. Clover's signature Garden Screens make great birthday gifts for moms which is why this one went home with me!
Visit Dandelion Ranch.
See more of Dandelion Ranch's Garden Screens on Flickr.