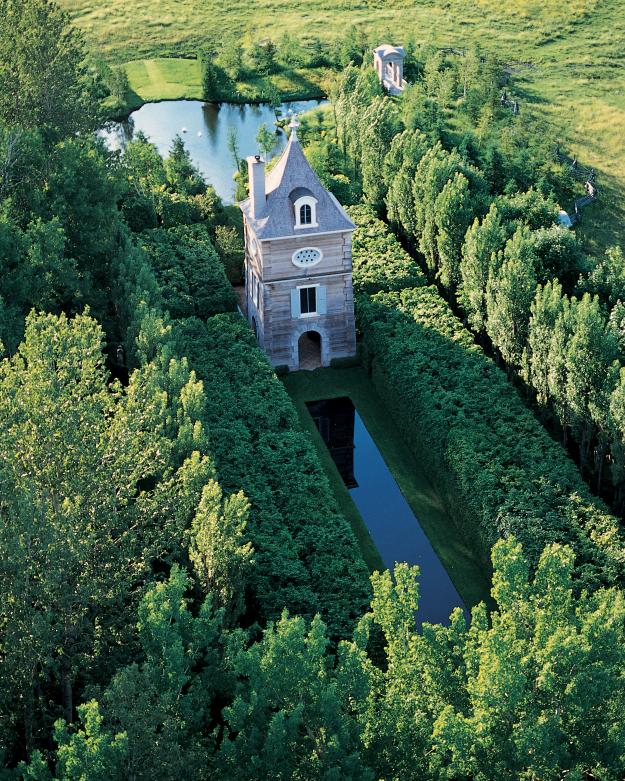 Photo by:
Richard W. Brown
At Les Quatre Vents, Cabot's masterpiece at his family home in Quebec, a pigeonnier offers a bird's-eye view of the garden.
In 1999, Frank Cabot went to visit Aberglasney, a 400-year-old Welsh garden that had fallen into serious dereliction. Cabot is the founder of the Garden Conservancy, an organization of 5,500 members devoted to preserving horticultural treasures, from the inmates' gardens on Alcatraz to the work of a self-taught topiary artist in South Carolina. To rescue Aberglasney, Cabot recruited master gardener Graham Rankin, who greeted Cabot as he arrived carrying kneepads, a trowel, and Wellingtons. "He left them there," recalls Rankin, "so that whenever he returned, he could do some gardening."
"Those kneepads and trowels are everywhere!" exclaims Cabot's son, Colin, on hearing Rankin's story. "It would be a tragedy not to have a trowel for an unsuspected roadside discovery." This simple obsession with plants has made Cabot, 85, one of the most influential gardeners in American history.
"Horticulture is split into myriad activities," Cabot says in a phone conversation from his winter home in New Zealand. "Some people only care about African violets, others about banana trees." As chairman of the New York Botanical Garden in the 1970s, he aspired to rally plant lovers to a single cause. His breakthrough was establishing the importance of legacy gardens. "The garden," he says, "means something to everybody."
Cabot's exposure to beautiful landscapes began in childhood. His branch of the Boston Brahmin Cabot clan summered on the St. Lawrence River in Quebec in a house called Les Quatre Vents ("the Four Winds"). Growing up and on vacations from Groton and Harvard, Frank fished and hiked there. In 1949, he married Anne Perkins, daughter of a prominent New York family whose Bronx estate, Wave Hill, is a public garden today. By 1959, Sports Illustrated had published a brief profile of him as an outdoorsman and prosperous New York investment manager with a country home in Cold Spring, New York. But Cabot hadn't lost touch with Quebec: It was to become his proving ground as a gardener.
Broaching middle age, he visited Quatre Vents and dedicated himself to improving the estate's 28 acres. He would spend the next 25 years reimagining the land as a boreal Eden. "Men build stately before they build finely," says Cabot. "Anyone can build a house, but to create a great garden is a lifetime of work."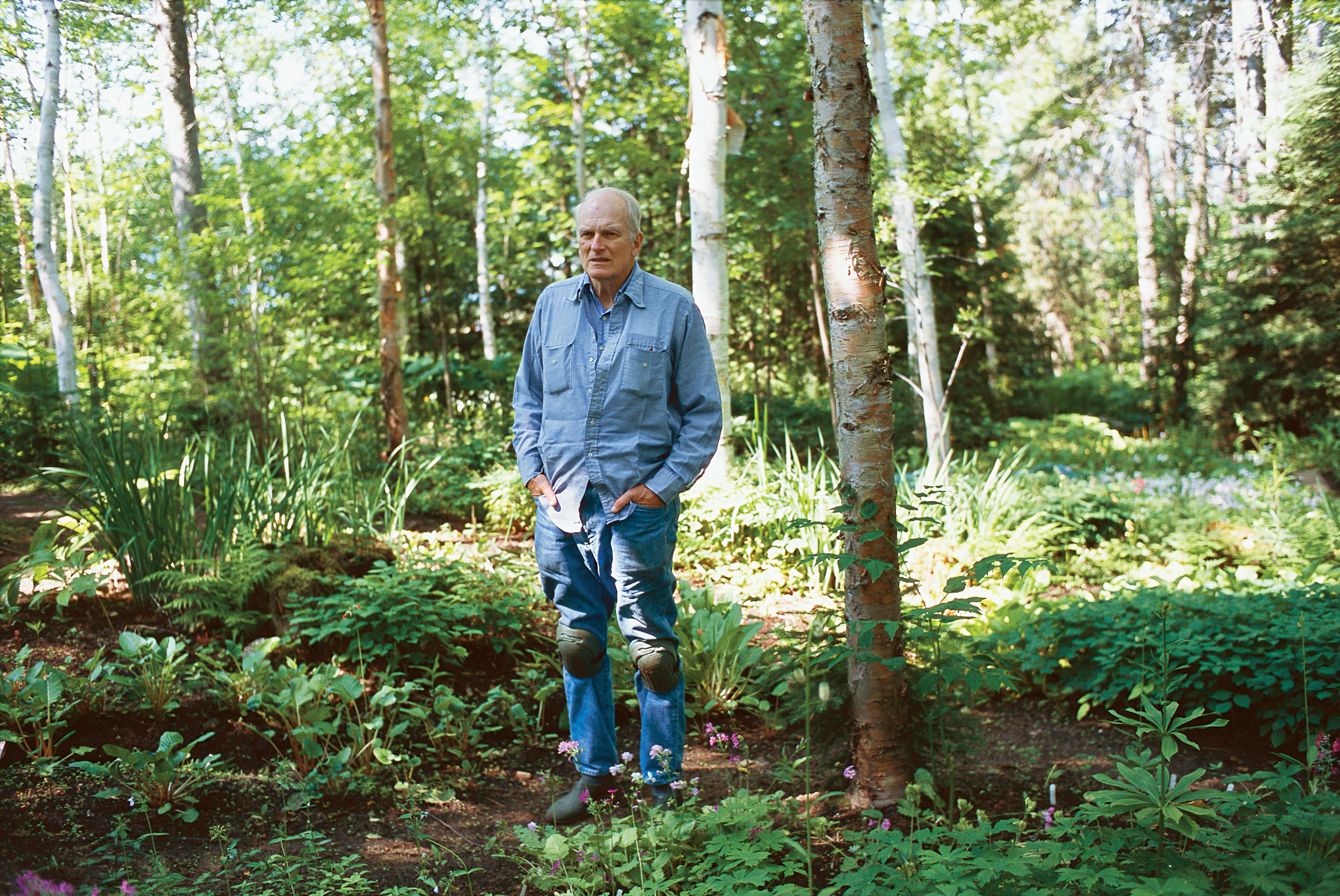 Photo: Lindsey Taylor; Cabot at Quatre Vents in 2000
Quatre Vents begins as a series of formal elements that recall Quebec's French heritage. By means of hedge openings, allées, and follies that include a three-story pigeonnier, it finishes with an overlook of a valley. The place lives up even to its designer's grandiose appraisal. "It's all about the senses," Cabot says. "You are surprised and amused, and even scared at one point. All your emotions should be involved, and after two or three hours you should come up and embrace me."
Cabot landed on the conservancy idea in 1988, when en route to a meeting in California, he stopped to see Walnut Creek resident Ruth Bancroft and her collection of succulents that she had grown too old to tend. "I'm not a cactus person at all, but I found it terribly exciting," Cabot later said. His wife suggested he appeal to Bancroft's friends and the horticultural community to help save the garden, and the seed was sown.
Though most people know the organization for its annual Open Days, when hundreds of private gardens are made available to the public, the conservancy has rescued more than a dozen vestiges of American garden culture. "Gardens are artifacts of places and people," says Antonia Adezio, the conservancy's president. "They tell a story of who they were and what their time was like."
Next month at New York's Central Park Boathouse, Cabot will receive a lifetime achievement award from the Foundation for Landscape Studies for "fostering an active understanding of the importance of place in human life." It's equally true that Cabot has a knack for making places important. At Cathedral Peaks Station, his New Zealand sheep farm, Cabot has planted a two-kilometer-long allée of giant sequoias. His plan is to thin out the planting until the trees are 60 feet apart, at which point, he says, "they should be reassuringly visible from outer space."
Charlotte Barnard writes frequently about design and historic preservation.


This article was first published in Garden Design
April 2011