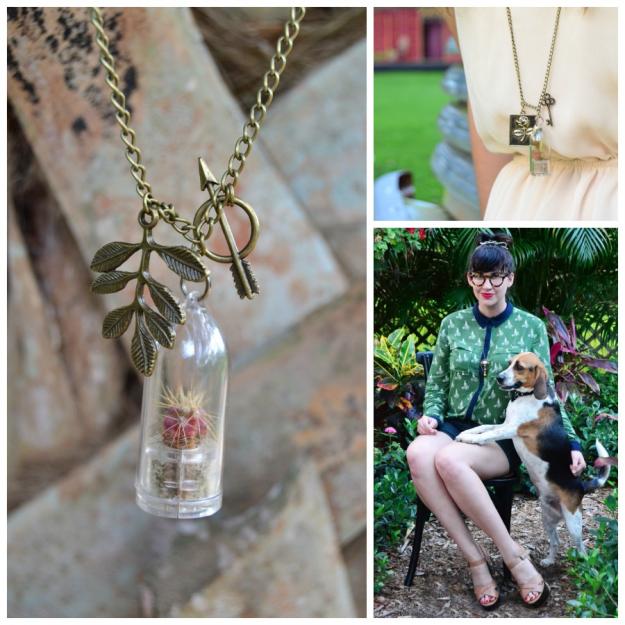 Katie O'Dare creates micro-ecosystems you can wear. We recently discovered her terrarium necklaces on Facebook and wanted to learn more about them. Here is what she had to tell us about her unusual combination of jewelry-making and gardening.

How did you get this idea for terrarium necklaces?
I started out by selling full size terrariums at Etoile Boutique in Orlando, FL. The store is filled with cool vintage clothes and handmade pieces. I was trying on a 60s floral shift, and jokingly said that a terrarium really went well with the outfit. My imagination was sparked, leading me to make my first wearable terrarium necklace.
Tell us what you love about terrariums.
A passion for mid-century modern design introduced me to the art of collaging nature. Terrariums allow my imagination to grow new worlds. Inside each glass vessel is a tiny rainforest that evolves over time, and lives with you.
Your company, Knees on Leaves, has a unique name. How did you come up with that name?
I was planting some new succulents in my backyard and when I stood up, leaves from the ground stuck to my knees. I liked the way it looked and felt. I also liked that Knees on Leaves is the same as my monogram (KOL).
Do you design and make the necklaces?
I design and make all of my terrariums. I purchase most of my plants at Palmer's Garden and Goods and jewelry supplies from Dear Prudence Bead Lounge. They are both excellent local businesses with friendly people that know me and what I'm looking for.
Can you tell us more about your terrarium assistant Tucker?
Tucker is my beagle pup. He goes on long walks with me through nearby forests and we search for air plants, interesting tree barks and moss. He is a big fan of terrariums and loves smelling them. I think he day-dreams that he is playing in them too.
What are the next steps for you and your company?
I want to expand my product line to include more terrarium supplies and other pieces of jewelry. I also hope to sell my creations at boutiques and maybe even larger stores all over the world.
What is the best way to reach you?
Check out my website www.kneesonleaves.com and follow me on Instagram (@kneesonleaves). I also recently started a Facebook page "Knees on Leaves" and if you would like to directly contact me, my email is kneesonleaves@gmail.com.