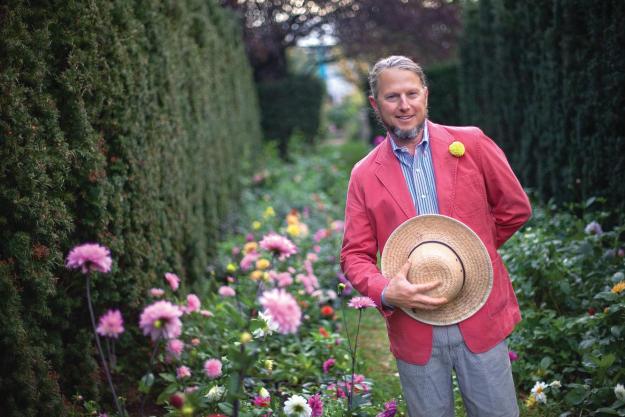 Photo by:
Piotr Redlinski
Almost three years ago, Steffen and fellow board members of the Hardy Fern Foundation, based at the Rhododendron Species Foundation & Botanical Garden in Federal Way, Washington, created a stumpery by upcycling nine dump trucks full of old stumps destined for the wood chipper. Encompassing half an acre, it is one of the largest stumperies now in existence. Catch it at the right time of day—or by moonlight—and it projects a primeval quality that is both striking and vaguely disquieting.
One of the thousand ferns that colonize the same garden is the soft shield fern (Polystichum setiferum var. Bevis). "It's one of the most graceful and delicate of the old Victorian cultivars," Steffen explains. "And it's available, thanks to tissue culture." Unlike most ferns, Bevis doesn't reproduce by spores, and it doesn't divide readily, either; that's why individual specimens have up to now been costly and difficult to come by. But these days, laboratory micropropagation yields a bumper crop of brand-new little plants. "This can happen with lots of different species," says Steffen. "Totally obscure but really great plants are finally within reach of the gardening public."
What's more, you don't need a half-wild acre in which to grow them. In fact, all you need is a terrarium. This type of plant-filled microcosm, studied by generations of third-graders, was once called a Wardian case, after its inventor, Nathaniel Ward. A London doctor and ardent amateur naturalist, he deplored the toll pollution took on his garden; in 1829, he accidentally discovered that a common fern (Dryopteris filix-mas) thrived in the humid environment of a sealed glass bottle. He began experimenting in earnest. His Wardian cases, ideal for keeping delicate plants alive on long sea voyages, were instantly adopted by plant hunters; at last they could transport tropical species, including ferns, with a high enough rate of success to make plant hunting profitable and plant collecting viable.
The darling of the DIY crowd, terrariums are everywhere right now, from the crafty website Etsy.com to New York's Museum of Modern Art, where a plant-filled installation created by artist and landscape designer Paula Hayes is on view through February 28, 2011. And just 26 blocks north, at the American Museum of Natural History, you'll find Hazel Davies, manager of living exhibits, who will soon be reprising a popular frog exhibition in one of the museum's galleries. In the workshop where she assembles living tableaux to satisfy the abiding urge to bring the outdoors inside and the faraway nearer, Davies has created a spectacular terrarium expressly for GARDEN DESIGN.
Housed in a 38-gallon pet store aquarium, the terrarium is an entire ecosystem in miniature. A brief survey of its leafy hillocks and mossy ravines reveals dwarf umbrella trees native to Taiwan, Kentia palms from the Solomon Islands, maidenhair ferns (New Zealand), rubber plants (north-east India, southern Indonesia), and bromeliads (South America). That flash of sapphire? That's a blue poison frog from Surinam. Peering into this lush landscape, you begin to grasp what it was to live in an era when our understanding of the natural world and access to far-flung parts of it were expanding by leaps and bounds. And our sense of wonder at it all is as powerful as ever.