9 Rooftop Gardens that Make Great Use of Space
Discover how your city rooftop can become an urban oasis for outdoor entertaining or growing your own food
When you live in the city, you often have to get creative with every square inch of space. If you're looking for an urban oasis for outdoor entertaining or someplace to grow your own vegetables, don't forget about your roof. Popular in NYC, Los Angeles, Miami, Chicago and other metropolitan areas, rooftop gardens offer a welcome respite from the hustle and bustle of city life. Take a look at the following examples to discover the possibilities for your own rooftop space.
A Manhattan-Style Rooftop Garden
Small-space gardening can present daunting challenges for landscape designers. But thanks to clever fencing, strategically placed plantings, and creative design, this 500-square-foot rooftop garden has become a welcome retreat from the hustle and bustle of city life.
Miami Rooftop Magic
Towering more than 30 floors above the street, this rooftop overlooks Sailboat Bay and Miami's cityscape. The owner loved the awe-inspiring vistas, but she also wanted her garden space to feel private and protected, and she wanted greenery all around the border of the terrace.
Italy: Green Terrace Roof Garden
When Gabriella Mazzola designed a roof garden for her clients atop a modern building in Italy, she understood why they asked for "a green oasis of relaxation." Her gentle hand with a feel for fine-textured plants creates a remarkable transformation and allows light to penetrate while providing privacy.
My Garden: A Lesson of Beginnings & Endings
From a sprawling backyard garden to an urbane rooftop escape visible only to neighboring high rises, Lolita Aaron's transformation from suburban gardener to urban gardener provides unlikely lessons in renewal and regeneration.
Designing a Luxury Rooftop Terrace
Daniel Keeley, designer of two adjacent rooftop terraces that exemplify urban outdoor living at its finest, shares five considerations for homeowners who would like to transform their rooftop into a luxury outdoor living space.
Vegetable Roof Garden
A look at the life-cycle of a rooftop vegetable farm for a Canadian restaurant—complete with hydroponic planters, a hoop house—including the harvest of beautiful vegetables.
Liza's Garden, on the Rooftop at the Royal Ontario Museum
A green-roof garden in the heart of Toronto supports the sustainability of a beloved museum while creating a picture-perfect view.
Unique Plants in a Rooftop Garden in Manhattan
Allison Fonte's garden makes her feel like she's in a Balinese village, not the middle of New York City.
Rooftop Living Space in Manhattan
Rooftop garden designed by Sawyer/Benson Architecture & Landscape Architecture.
Rooftop Garden Design Resources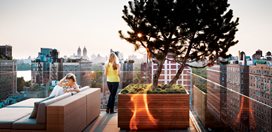 Landscaping Roof Terraces
When it comes to design—as long as your roof can bear the load of furniture, foot traffic, and plantings—the sky's the limit.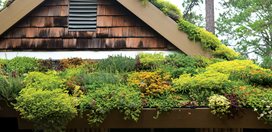 Green Roofs
Experimentation and fun transform the aesthetics of green roofs.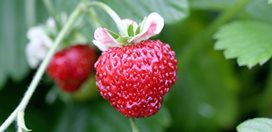 Urban Edibles: Rooftop Garden Plants
Even city gardeners are hungry for the taste of homegrown fruits, veggies and herbs. Thankfully anyone can have pick-able produce at their fingertips, even if all they have is a rooftop space.