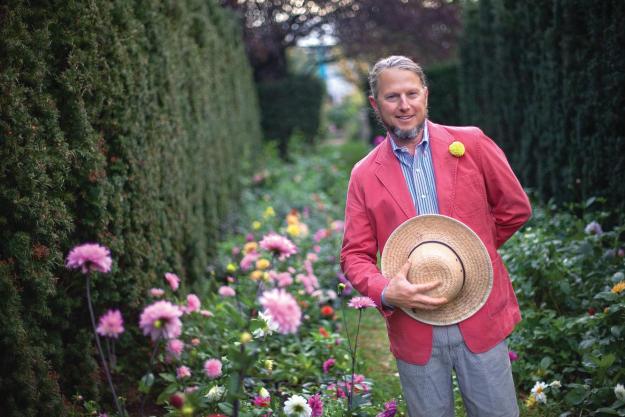 Photo by:
Piotr Redlinski
Although visitors often liken Wooster's garden to a museum—there looks to be one of everything in his expansive collection of plants, which extends inside the house to the fancy-leaf begonias and other houseplants displayed all around—nothing seems out of place. Exotics like banana, castor bean, and jungly foliage all thrive in this temperate-zone garden, continents away from where they originated. They're a reminder that hardiness ratings are simply rules of thumb that apply to a wide geographical area. Recognizing microclimates and plotting plants properly have allowed Wooster to "push the zone" as effectively as collectors of tropicals did 150 years ago.
Like Wooster, 27-year-old farmer Annie Novak has a keen understanding of what it means to test the boundaries of nature, though her immediate environs are far less bucolic: an industrial block in the Greenpoint neighborhood of Brooklyn, New York, which fronts the East River. You have to climb up three stories to get to the 6,000 square feet that comprise Eagle Street Rooftop Farm, now in its second year. In that short time, the aerie has become integral to community residents whose longing for connection to the land is something any Victorian urbanite would have recognized. Locals shop at Eagle Street's Sunday market and patronize neighborhood restaurants that feature the farm's produce on their menus. Some are members of Novak's team of volunteers. "To tell you the truth," she says proudly, "I'm growing more farmers than vegetables."
A "green-roof" garden is tricky, Novak says, first of all because of the requisite soilless growing medium, which is lightweight and efficient at retaining water but too shallow for many vegetables. "What plants really want is soil that's alive," Novak adds. Unable to raise the range of produce that supported the domestic economy in the Victorian era, when an ordinary kitchen garden might contain 40 different vegetables, Novak oversees a more tightly curated list of crops that includes organic tomatoes, carrots, cucumbers, hot peppers, eggplant, lettuces, arugula, kale, chard, radishes, and herbs. This season, the buyers of shares in Eagle Street's CSA (Community Supported Agriculture) group will provide literal seed money for the forthcoming growing season; in return, they'll receive regular allotments of the freshest produce imaginable.
During my visit, an Eagle Street bee grazes among the calendula, then heads in an unwavering line back to the hive. This farm may be firmly rooted in its immediate neighborhood, but its bees are not. "When you take a frame out of the hive," Novak says, "you can tell where the bees are getting pollen." Examining the honeycomb within the frame, she says, is like looking at a map. "Once I pulled one out and it was all red. The bees had gone over to the maraschino cherry factory in Red Hook, several miles away, and gotten into the dumpster." Steampunk bees.
Redrawing the lines between urban and rural was, of course, a major preoccupation of the Victorian age. The map of the Great Western Railway published in Cassell's Weekly Dispatch Atlas in 1863 shows lines branching out like so many capillaries from major cities into formerly isolated parts of the countryside. Along with increased leisure time, this railway system allowed urban dwellers aching for the scent of sod and the sight of things growing to make excursions, often to places of great beauty.
Only the most fortunate among them would have been able to build a retreat on the scale of the Elisabeth C. Miller Botanical Garden, spread out over three moist, shadowy acres overlooking Puget Sound in Washington State. Here, curator Richie Steffen oversees a collection of 240 or so native and nonnative ferns. "There is something about ferns," he says. "They are so intricate. Their feathery, soft look adds a unique texture to any garden." And, as any pteridologist will tell you, it's just a slippery, gametophyte-covered slope from a crush on ferns, the plant most associated with the Victorians, to an obsession with stumperies.
These artfully arranged tangles of uprooted tree stumps call to mind nothing so much as the gothic fantasies of Tim Burton. Being very dense, stumps take a long time to rot, and in the meantime, their deeply fissured bark provides the perfect habitat for ferns, mosses, lichen, and small woodland creatures. A period conceit, perhaps, but the Victorians knew how effective the enveloping semiwilderness could be in shutting out life's static. The Pacific Northwest, with its forests of western red cedar, Douglas fir, and Western hemlock, is a treasure trove of stumps—logging drove the economy here through the 1970s—and of woodland places in which to site them.