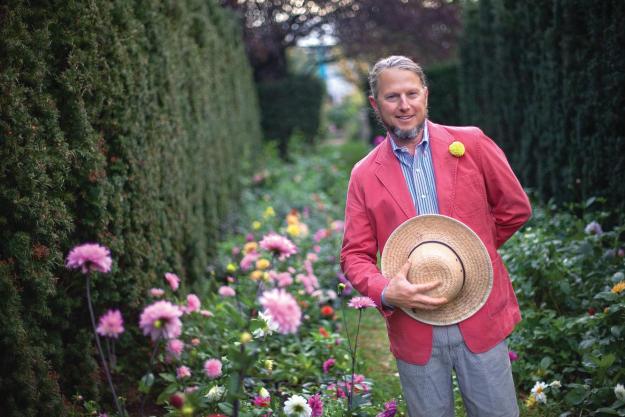 Photo by:
Piotr Redlinski
To view the full gallery please refer to The New Victorians Slideshow
Also related: Victorian Gardens in Print and Ode on a Victorian Urn
Atlock Farm in Somerset, New Jersey, is just an hour's drive from Manhattan, but the distance might better be measured in centuries. Here, on the gently sprawling pastureland of an old dairy farm, Ken Selody, a garden designer and old-school nurseryman ("I grow what I sell"), offers unusual annuals, perennials, succulents, tropicals, and topiaries for sale or rent. On this crisp November day, his intimate patchwork of greenhouses and gardens is splendid with the colors of late autumn. The historical antecedent for Selody's greenhouses is the glass-and-iron Crystal Palace, a giant prefabricated confection of a conservatory designed by the architect/designer Joseph Paxton and first erected in London for the Great Exhibition of 1851 (the World's Fair of its day). While Selody's airy plastic tunnels are more modest in their outward appearance, the view inside triggers the same amazement and delight in me that the Victorians must have felt at the sight of all those alien plants newly available for up-close inspection. One greenhouse is filled with twirly, swirly tillandsia, bromeliads that hang like ornaments or cascade down wire frames, gathering nutrients from the air; by rights, their provenance should be Whoville rather than Latin America.
"There is no better place to be than a greenhouse in February," says Selody. "You kick the snow off your boots and walk into the tropics. With all the moisture, even the air is buoyant." A coleus I'm mesmerized by was first brought to Britain from the rain forests of Java in the 19th century by professional plant hunters—botanist-adventurers who plundered the remotest reaches of the British Empire to feed a growing market for tropical plants back home. The influx of unfamiliar species sparked a vogue, mostly among the newly affluent, for bedding out masses of tender, brightly colored exotics. Blessed with a climate unusually mild for such a high latitude, the English could enjoy the showy displays from early spring to the first frost.
Selody's hundred or so coleus varieties include shade-loving 19th-century heirlooms as well as sun-tolerant 21st-century cultivars, with wildly different leaf shapes and clear, deeply saturated pigments. "As a designer, I'm more interested in the effect of foliage than anything else," Selody says. "There is a natural progression gardeners go through that culminates in the unconditional love of plants even when they're not in bloom. A plant's inner beauty is in the foliage."
We come upon some of the topiary that Selody is known for, a perfect expression of his simultaneously rigorous and relaxed style. Each coleus "standard"—that is, a single stem with a ball on top—is a revelation. Unlike a topiary of myrtle, bay, ivy, or box, the ball in this case is feathery, really more like plumage. "Some plants lend themselves to certain shapes more than others," Selody says. "Experience teaches what works and what doesn't." His approach is similarly broadminded when it comes to container plantings, particularly the urns so beloved by the Victorians. "Almost anything looks good in an urn," he says, offering as an example one in which the soil is covered by ground-hugging echeveria, spiky succulents tinged with purple, out of which rise the bare knobby stems of a vastly larger succulent, a kalanchoe with a canopy of fuzzy gray-green leaves on top. The fact that you can see through the arrangement is important to Selody: "I like its modernity, even in an old-fashioned cast-iron urn."
While Selody's individual style is instantly recognizable, his is hardly the only garden where the legacy of the Victorians is in evidence right now. More urns, spilling over with interlacing annuals, punctuate a half-acre surrounded by a plain picket fence in rural northwestern Connecticut. This is the private garden of Peter Wooster, an interior designer by profession, who divided his time between commercial and residential design projects in Manhattan and the country before forsaking the city entirely. Twenty-three years in the making, this garden has, in the last decade, become a collaboration with gardener Rob Girard, who's assumed an even larger role in its perpetual evolution since Wooster suffered a stroke four years ago.
At the center of the meticulously edged garden is a showstopping Victorian Circle, which gets a fresh injection of colorful annuals every year. This sort of design element satisfied the Victorian desire for geometric layout—a mark of classical refinement in the eyes of an expanding and predominantly urban middle class only just discovering the pleasures of a second home, the leisure time to garden, and an ever broadening idea of what it was possible to grow.