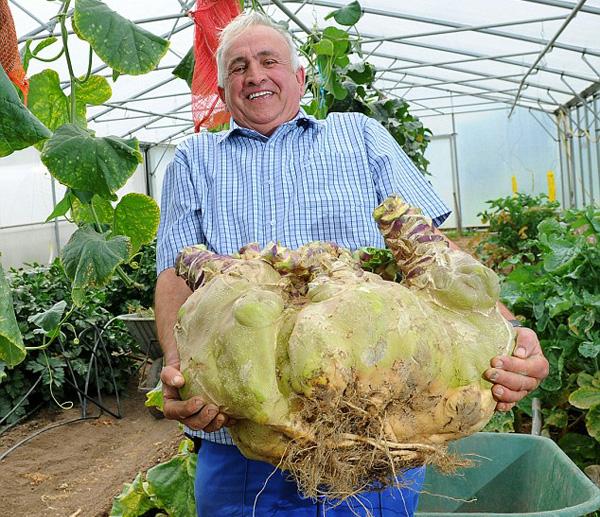 Photo by:
Wales News Service
When Welsh farmer Ian Neale unearthed his enormous rutabaga (Brassica napobrassica) last month, he most likely had some sense of the notoriety it would usher in—the 68-year-old has been cultivating superlative vegetables for many years. He previously plucked a record-breaking celery (52 pounds), and a beetroot (51.5 pounds).
The impressive rutabaga, which Neale had been growing for 30 years, weighed in at 85.5 pounds, qualifying it as the world's largest rutabaga.
He devotes 70 hours a week to his giant vegetables—preparing them for competitions, and, of course, cultivating them. What's his secret? Neale's prize-winning crop has attracted international curiosity from farmers, gardeners, and, surprisingly enough, a rapper.
Neale received a video invitation from Snoop Dogg—a rapper and, apparently, a horticulturalist—who had heard about the extraordinary harvest and hoped to discuss growing techniques with the farmer. After some deliberation (Neale wasn't familiar with the rapper's music), he accepted the invitation to attend Snoop's upcoming concert in Cardiff, Wales. "You shouldn't let secrets grow to the grave," he said. Apparently, he recommended RootGrow, a natural fertilizer. Gardeners and rappers, take note!
Anna Laurent is a writer and producer of educational botanical media. Photographs from her forthcoming field guide to Los Angeles are available for exhibition and purchase at her website.