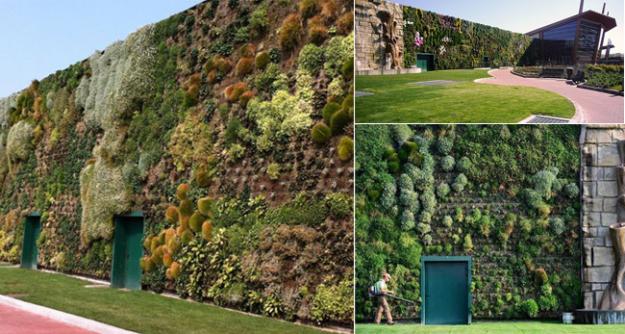 Vertical gardens have grown a lot since 1988, when French botanist Patrick Blanc first experimented growing plants without dirt—on a wall. Their popularity seems limited only by its design, which has been demystified as a fairly straightforward system of a water source, a frame, and a couple layers of felt or wool. Restaurants in Mexico and studios in Manhattan now grow walls of philodendrons, ivies, ferns, bromeliads, begonias, and hoyas. And they've been growing bigger. A living wall in Milan was recently granted the superlative title of world's largest. Designed by architect Francesco Bollani, the vertical garden carpets 13,600 square feet of an Italian mall's facade.
The garden's 44,000 plants grew in a greenhouse for a year before Bollani and his team began assembling the wall, a design the architect compares to a giant Lego structure. The plants live in small metal containers that allow for easy irrigation and care. Bollani's modular system was more expensive than single surface vertical gardens, but it made it a lot easier to build, and large enough to garner its superlative title from the Guinness Book of World Records.
According to the shopping center's director, the garden helps regulate the building's temperature by insulating and reducing exposure to direct sunlight. Previously, the largest garden in the world was at Jardín Vertical Hotel Santo Domingo, in Madrid, measuring 844 square meters. The garden in Milan was completed in 2010, but just recently awarded the official world record.