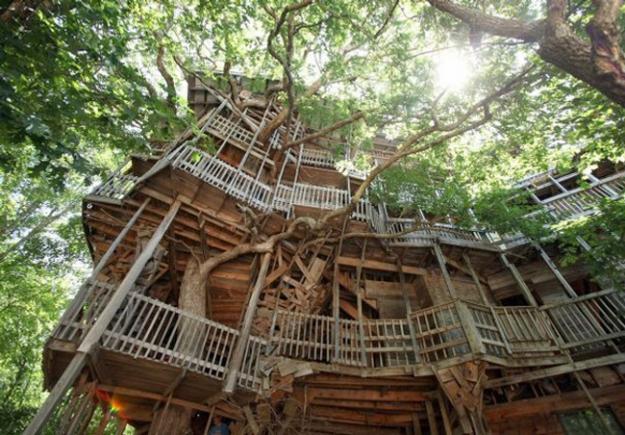 Photo by:
Adam Brimer / Knox News
One day a minister in Crossville, Tennessee was praying when, as he says, god made a suggestion. "If you build a tree house, I'll see that you never run out of material." And so Horace Burgess found a good tree, and began gathering wood. Today, 19 years later, the minister's treehouse is about 97 feet tall—the largest in the world, says Burgess, and probably the only one with a basketball hoop in the chapel.
True to his divine inspiration, Burgess has yet to run out of wood, and is still building. He uses reclaimed wood from local sheds & barns, and his primary cost has been nails—of which there are about 258,000, according to Burgess. Known as the Minister's Treehouse, the structure remains centered around the original 80-foot-tall white oak tree, with six other oaks as support. Burgess built the treehouse without blueprints—the house evolved organically over the years, as is quaintly evident from its cobbled design—so it's tough to say exactly how large it is. Minister Burgess estimates that the 80 rooms sprawl over about 10,000 square feet.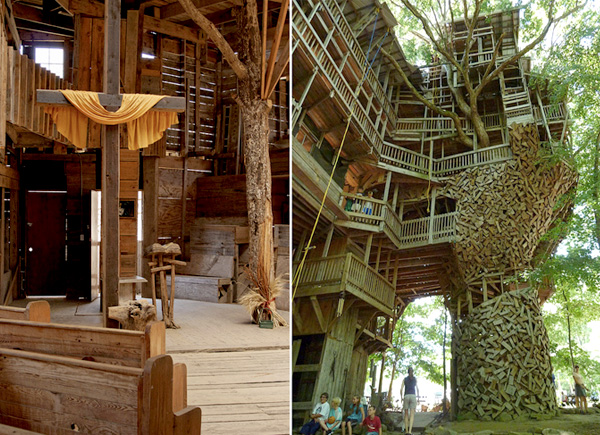 Photo credits: Andrew Cicsel/Flickr (left), Megan/Flickr (right)
A landscape architect and an ordained minister, Burgess designed the 10 story structure with a Southern flair (each floor is wrapped in a porch), and a pious resourcefulness. He's repurposed oxygen acetylene bottles as bells, which chime daily, and a lawn chair as a swing that dips four stories. One can play basketball on the way to the belfry (Burgess is a proponent of physical fitness), pick up an old Bible in the pews, peer out from a shower-door window, climb to the top and see an bed of flowers that spell "Jesus" in the nearby field. Or, you could get married there.
Everyone is welcome at the Minister's Treehouse, says Burgess, a gesture that's invited a bit of vandalizing over the years, but nothing beyond repair, and nothing that's discouraged daily visitors to explore the hulking structure. Today, Burgess retains his role as landscaper and repairman, and occasionally climbs an altar for a Sunday service. There are two signs: "Welcome" and "No Smoking"—as Atlas Obscura points out, that seems non-negotiable in a wooden house.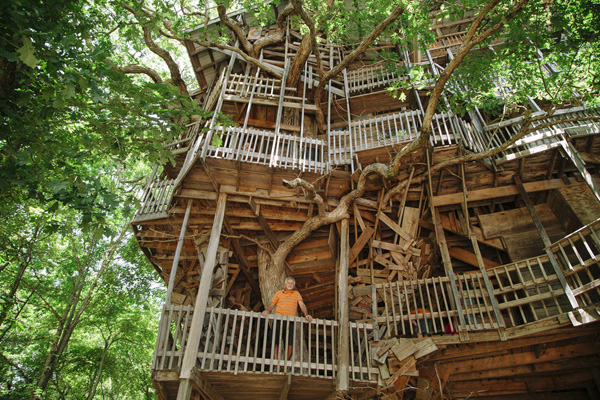 Horace Burgess on the porch of his Treehouse. Photo credit: David Walter Banks.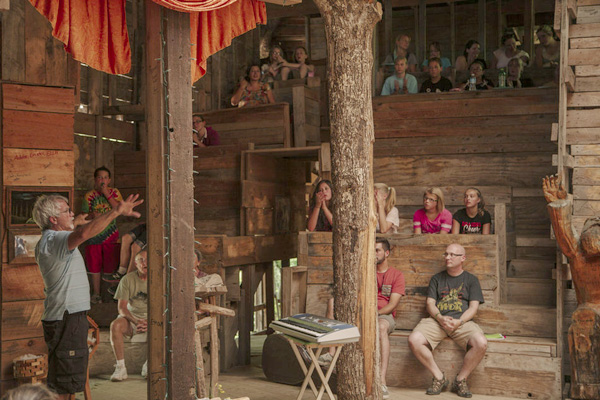 Minister Burgess delivering a Sunday sermon. Photo credit: David Walter Banks.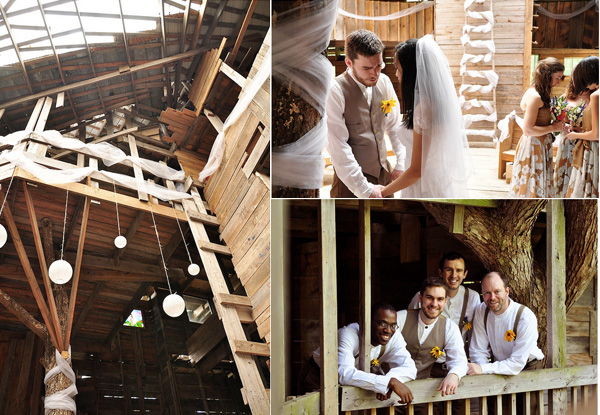 A wedding in the Minister's Treehouse. Photo credit: bigbigbigtoe/Flickr.
Photo credit: Roger Smith/Flickr.