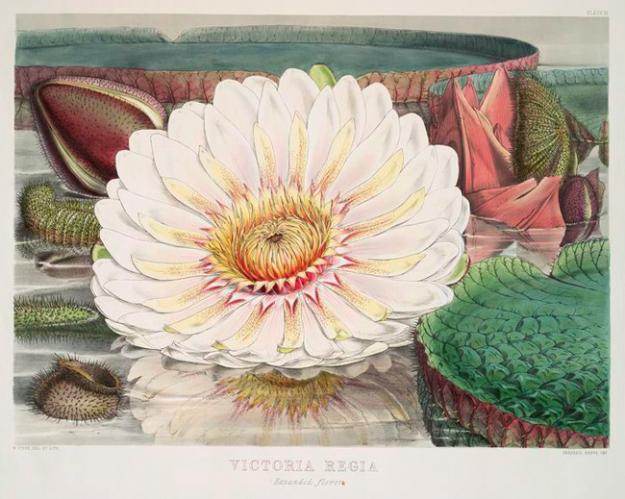 Photo by:
NYPL; Illustration by Walter Fitch, from Kew Gardens, 1851
"It would not be extravagant to call the beauties of this plant unsurpassable. It is everything to be wished for."—A gardener's account of the Victoria water lily blooming in cultivation, Philadelphia, 1851.
The Victoria water lilies' leaves reach nine feet (or almost three meters) in diameter, its nocturnal blossoms are white with the first moon, and pink with the second, with a sweet aroma that will fill the night. These water lilies are the largest in the world, and have been marveled at since first discovered in 1801. Annals of early botanic expeditions are filled with poetic descriptions of the Victoria amazonica, a species beloved for their superlative size and exquisite beauty. These nineteenth-century accounts describe these flowers that are native to the untravelled Amazonian waters as improbably large, fragrant, and mysterious.
In 1849, one naturalist wrote that an encounter with the exotic lily was "so novel and extraordinary that I am at a loss to what to liken it ... The impression was that of a number of green tea-trays floating, with here and there a bouquet protruding between them." After an arduous navigation in British Guiana, the explorer Sir Robert Hermann Schomburgk discovered a population of lilies, and wrote "All calamities were forgotten: I was a botanist, and felt myself rewarded! ... The smooth water was covered with the blossoms; and as I rowed from one to the other, I always found something new to admire." He wrote of the flower's nobility, charm, sweet fragrance, and luxuriant blossoms of pink and white.
Enthusiastically embraced by Victorian horticulturalists, the regal lily quickly became a favorite in royal gardens (at this time, it was called Victoria regia, after Queen Victoria; the name later changed to reflect its native waters). Perhaps the most famous introduction was at Chatsworth's famous gardens, where Joseph Paxton designed a heated pool for successful lily breeding, and then a conservatory for the flower's unprecedented size. The conservatory's design was inspired by the waterlily's own leaves—with their intersecting veins and ribbed undersides, the leaves were "a natural feat of engineering." Naturally, the architect tested his blueprints, by floating his daughter on a leaf. A more dramatic iteration of the water lily's leaf structure debuted on a larger scale, as Paxton's Crystal Palace, designed for the Great Exhibition in 1851.
Romantic, well-designed, and very large, the Victoria amazonica is also smart. The flower's fragrance and night blooming is an effective pollination strategy. The lilies are beetle pollinated, and so these nocturnal insects follow the sweet scent by night, to be enclosed in the blossom by day. They are released the following evening, with pollen that will travel to the next opening blossom.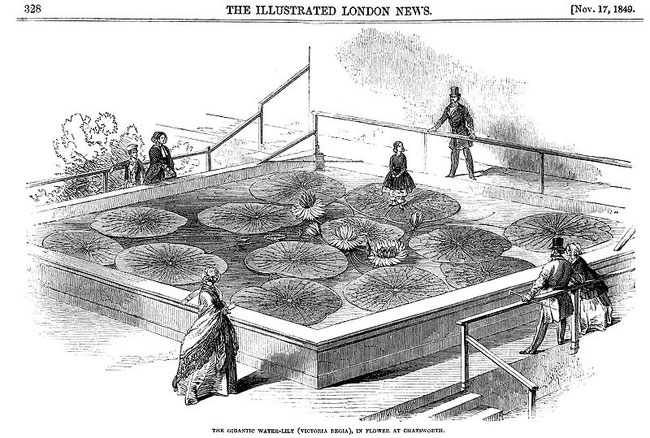 Joseph Paxton's daughter stands on a lily leaf. "The Gigantic Water-Lily (Victoria regia), in Flower at Chatsworth"; photo credit: Illustrated London News

A Rotterdam zoo hosted a day for babies to model on the water lilies. Photo credit: Peter DeJong/AP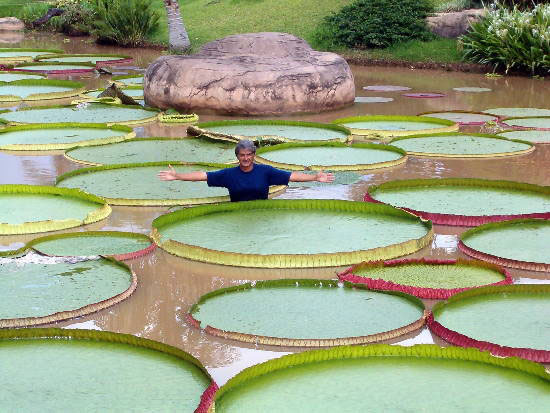 The largest Victoria water lily on record was grown in Santa Cruz, Bolivia, in 2005, and measured 9.12 feet (2.78 meters) in diameter. Photo credit, José Ribero.
Anna Laurent is a writer and producer of educational botanical media. Photographs from her forthcoming field guide to Los Angeles are available for exhibition and purchase at the author's shop.