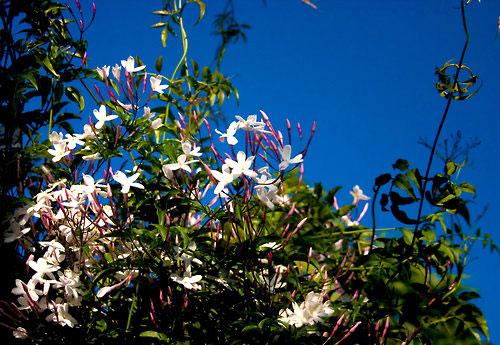 "Plants that wake when others sleep / Timid jasmine buds that keep / Their fragrance to themselves all day / But when the sunlight dies away / Let the delicious secret out / To every breeze that roams about." — Thomas Moore
In Southern California, the first spring breezes are interlaced with a terribly seductive scent. An evening stroll through low-lit sidewalks is gently punctuated with the fragrance of the jasmine blossoms, giving one the impression that a beautiful woman has just walked by.
The jasmine vines are ubiquitous, and easy to miss visually—the flowers are small, rather unremarkable, and they sweep around garden fences with the furious tenacity of a weed—but the scent is potent and bewitching. That elusive scent is almost impossible to bottle and of course, as such, the jasmine aroma has become a hallmark of expensive perfumes. Capturing the jasmine flower's essence is considered a superlative feat of aromatic alchemy.
Until the 1970s, it was believed to be the only botanic scent that could not be reproduced artificially. Today, current synthetics yield a very close estimation of the authentic aroma (olfactory purists—or passersby on a Los Angeles evening—would perhaps disagree), though the process of procuring a true essence remains laborious: Referred to as "Queen of the Night," jasmine blossoms must be gathered by moonlight, for their scent withdraws at the sun's first light. And the night harvest cannot be small—roughly 7.6 million flowers are needed to produce one kilogram of jasmine essential oil.
Thus, the price for becoming the mythical "beautiful woman who has just walked by" is quite high—to smell like this common flower requires an uncommon price tag. Some popular (and expensive) perfumes that use jasmine include:
1. Jean Patou's Joy: $450 / 1.0 oz : 10,600 jasmine flowers
2. Clive Christian Imperial Majesty: $215,000 / 500 ml : The word's most expensive perfume uses jasmine from India; amalgamation time is six months.
3. Chanel No 5: $260 / 1.0 oz : 1,000 flowers
Anna Laurent is a writer and producer of educational botanical media. Photographs from her forthcoming field guide to Los Angeles are available for exhibition and purchase at the author's shop.