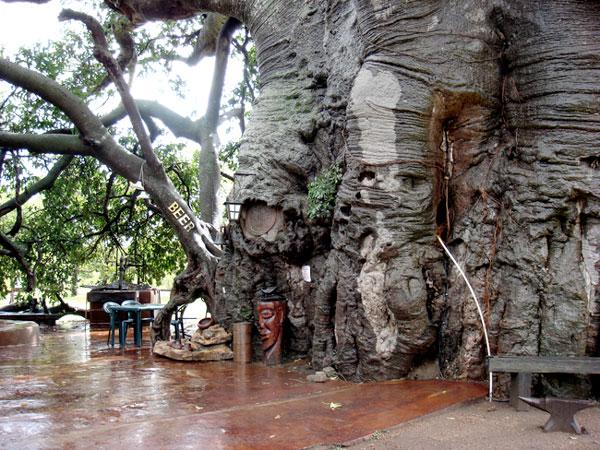 Photo by:
www.rachelsussman.com
This bar has no line, no cover charge, and no neon sign. Instead, look for a canopy of gnarled branches, and perhaps a couple baboons. If you can discern the door from the bark, you'll be able to order a couple pints, and grab a seat at a bar carved inside of the world's largest baobab tree, in the Limpopo province of Modjadjiskloof, South Africa. It's also possibly the oldest baobab tree, with an age anywhere from 2,000 to 6,000 years old. Soaring 65 feet tall and twice as wide, the tree has been transformed into an isolated oasis that offers umbrage from the South African savanna and a cavernous place to have a drink for 50 thirsty adventurers.
Baobab trees (Adansonia digitata) are unmistakable on the African horizon: The massive conical trunks surge from the land and wrap the sky in a weave of root-like branches, giving the nickname "upside-down tree." (According to local lore, the first baobabs offended the gods, and as punishment they would forever grow upside-down.) And they naturally hollow with age—absorbing moisture from the arid landscape, the fibrous interiors become hollow after a thousand or so years. The vacant spaces in the trees have been repurposed as dwellings, prisons, and even a dairy.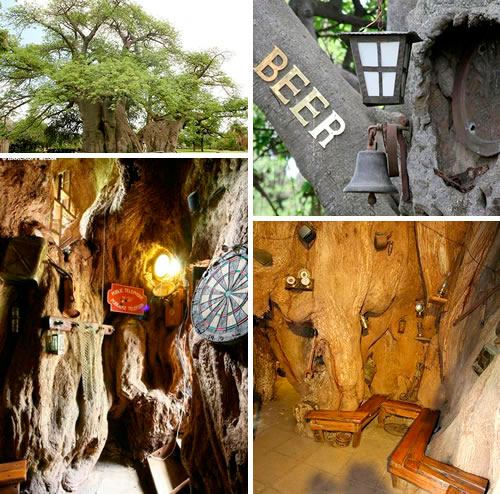 Image credits: dailymail.uk, bigbaobab.co.za
Thus, it was in the spirit of local tradition that Doug and Heather Van Heerden would transform their hollow, accommodating baobab into an improbable pub. Having owned the land for 19 years, they officially licensed their erstwhile arboreal speakeasy in 1993. They installed a railway sleeper pub and wine cellar, and hung the "Beer" shingle by the newly carved door. And, while its occupants drink, so does the baobab—the living organism's roots continue to grow downward in search of water. According to Mr. Van Heerden, "the roots grow down looking for water and all they find is beer."
And so today, the drafts flow while the thick trunk absorbs any rock music that would otherwise disturb its tranquil bush surroundings, ensuring a certain sanctuary for revelers nestled within. What happens in the baobab, stays in the baobab.