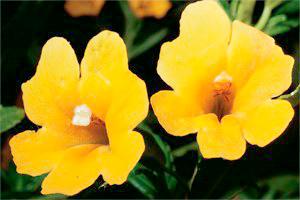 An unfertilized flower with open lips (left); the lips close when stimulated (right).
Flowers are nothing if not experts in the art of seduction. While their methods are perhaps more subtle than those of their animal counterparts, flowers nonetheless woo their desired pollinators with refined techniques that would cause a seasoned coquette to blush, and Don Juan to take note. It's only appropriate, then, that we should recognize the Cleopatra of botanic dalliances: a flower poised to kiss, with expectant lips that respond to the touch with a slow embrace.
Growing along low banks of California chaparral like a cascade of golden embroidery, the Sticky Monkey Flower (Mimulus aurantiacus) wins our prize for best kisser, a superlative title bestowed to the nectar-laden blossom whose alluring "come-hither" pose waits for a brief visit from a pollen-bearing insect or hummingbird. Each flower is endowed with two stigma lips that remain open through a long blooming season. Positioned at the end of the style, the lips will slowly but noticeably move and close together when brushed by a pollinator's body, creating a sheltered chamber for the pollen to develop into a fruit.
While the blossom's slow kiss is not entirely discriminating—it will temporarily close at the touch of a finger, or blade of grass—it is designed to assume a position of chastity when the desired encounter is fulfilled: once pollinated, its lips remain shut.
Anna Laurent is a writer and producer of educational botanical media. Photographs from her forthcoming field guide to Los Angeles are available for exhibition and purchase at the author's shop.