Photo by:
J. Stephen Conn (Flickr)
In a small neighborhood park in Athens, Georgia, is a large white oak (Quercus alba) with unprecedented legal status and a legendary epithet. Known as "The Tree That Owns Itself," the oak was famously granted legal ownership of itself, and the plot of land within 8 feet of its base. The tree has become fodder for legal discussion—can a tree really own itself? (Most scholars say no, if only because the tree does not have the legal capacity to accept a deed)—and a charming measure of one man's love for his tree.
The tree's history is a little murky—and debatably apocryphal—but locals will tell you that the tree's deed was bestowed around 1820, enacted through a clause in the will of its owner, Professor William H. Jackson. After a childhood spent climbing its branches, Jackson wanted to ensure the tree's protection after his death. Jackson's land deed is inscribed on a stone slab that welcomes visitors to the tree: "For and in consideration / of the great love I bear / this tree and the great desire / I have for its protection / for all time, I convey entire / possession of itself and / all land within eight feet / of the tree on all sides. — William H. Jackson"
Of course, Jackson's efforts to protect the tree in the eyes of the law could not shield it from the arms of a strong wind, which, in 1942, toppled the 400-year old tree. In 1946, Athen's Junior Ladies Garden Club planted an acorn from the original oak. The tree was recognized in the National Register of Historic Places in 1975, along with the land that surrounds it in Athen's historic Dearing Street neighborhod.
Today, the "Son of the Tree That Owns Itself" is as beloved by locals as its predecessor was by Jackson. Apparently, there is a trust fund that pays the tree's taxes and its Facebook page has more than 8,000 fans, who contribute photographs and affectionate testimonials. And, the tree continues to make local news: Last September, the white oak's enduring popularity was confirmed when it was 'yarn bombed' with a soft green scarf. One fan wondered how the scarf had been acquired: "Who doesn't love The Tree? Who knows? It might have just gone shopping. Since it owns itself, does it have its own money?"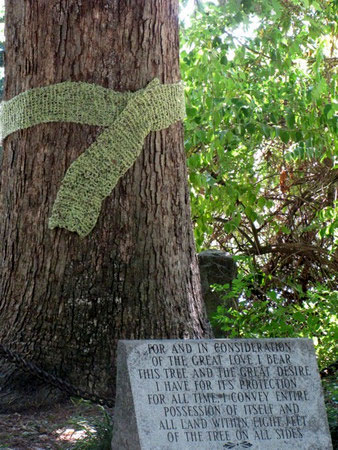 Photo credit: Andrea Striepen
Anna Laurent is a writer and producer of educational botanical media. Photographs from her forthcoming field guide to Los Angeles are available for exhibition and purchase at her website.