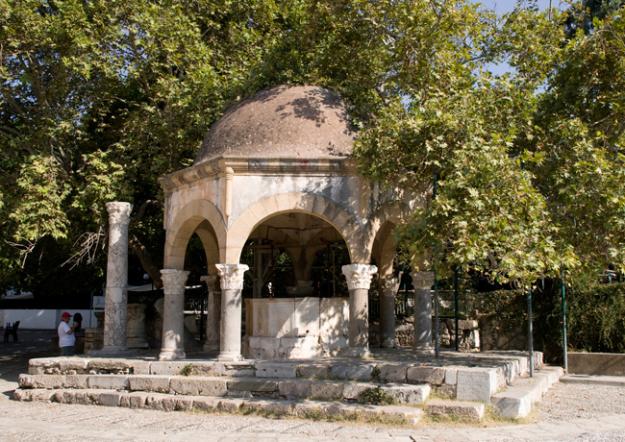 Photo by:
Flickr user Ferdi'sWorld
On the Greek island of Kos is a plane tree (Platanus orientalis) with an ancient history that has taken root throughout the world. It is called the Tree of Hippocrates, believed to be a descendent of the tree that provided a canopy under which the Father of Medicine taught his disciples in 5th century BC. Today, the ancient physician is regarded as a founder of modern medicine, and the plane tree has become a symbol of inquiry and ethics in medicine.
Hollowed with age, the tree is estimated to be about 500 years old, and, it is said, a descendent of the original Platanus—it is possible that the roots of Hippocrates's oriental plane tree, which would have grown 2,400 years ago, propagated a series of successors. This would mean that the tree that grows today is the fourth generation, and one that has widely dispersed a legacy of Hippocratic metaphorical souvenirs, by way of cuttings and seeds that have been gifted throughout the world. In 1954, the Medical Association of Kos presented the President of the Canadian Medical Association with a gavel made from wood of the plane tree.
Today, these trees—grown from the one at Kos—have been propagated at institutions that include Harvard Medical School, Boston; University of Victoria, British Columbia, Canada; Department of Genetics, University of Glasgow, Scotland; University of Sydney's School of Rural Health, Australia; Yale School of Medicine, New Haven, Connecticut; and the National Library of Medicine at the National Institute of Health, Maryland.
These plantings often include ceremonies, plaques, and statements of purpose. Upon planting a graft from the Kos tree on their Pennsylvania campus in 2008, the Dean of the Commonwealth Medical College remarked "Just as Hippocrates taught his students under its branches we hope that our students will be able to sit and study under this historic tree ...that is such an important symbol of integrity in the art of medicine."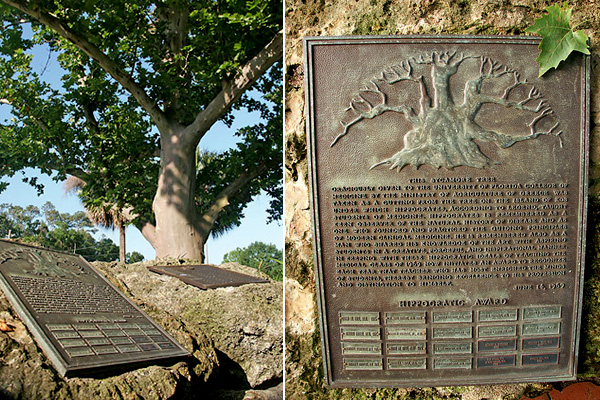 Platanus orientalis
, grown in 1969 from a cutting of the tree at Kos, and a plaque that names recipients of the College's Hippocratic Award, College of Medicine, University of Florida. Photo credit: George T. Harrell Archives and Nina Stoyan-Rosenzweig.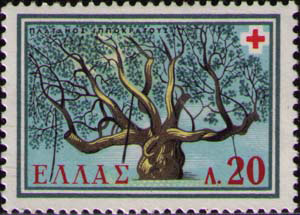 1959 postage stamp with the Tree of Hippocrates in Kos, Greece. Photo credit: Dmitry Karasyuk / philatelia.net.
Anna Laurent is a writer and producer of educational botanical media. Photographs from her forthcoming field guide to Los Angeles are available for exhibition and purchase at her website.