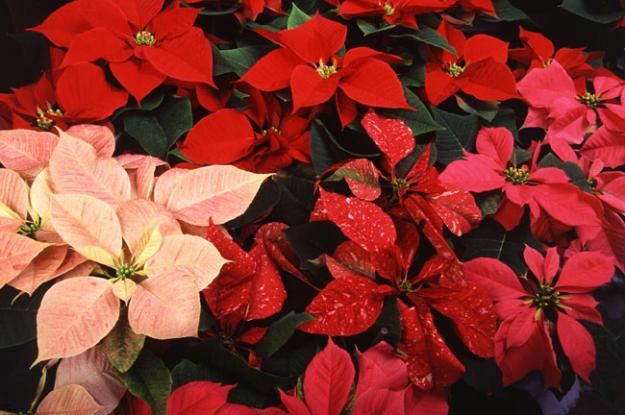 Get more from Garden Design
In the 1960s, a potted plant began appearing as a backdrop for television holiday specials. Very leafy and very red, it was the poinsettia, of course. With prime screen real estate behind Johnny Carson and Bob Hope, the conspicuous plants were an unmistakable message: poinsettias are the Christmas flower. These poinsettia television cameos were part of a marketing strategy by the Eckes, a family of poinsettia growers and entrepreneurs, and the reason that so many of our holiday mantles are still lined with poinsettias.
The Ecke family emigrated from Germany in 1900, in search of a climate conducive to year-round horticulture. They settled in southern California and soon discovered the winter-blooming poinsettia (Euphorbia pulcherrima). They began cultivating potted versions of the Central American plant (where it grows wild, as sparsely flowering bushes). By the 1960s, Paul Ecke Sr. had created, through grafting, a sturdy variety with dense leaves—perfect for shipping and displaying.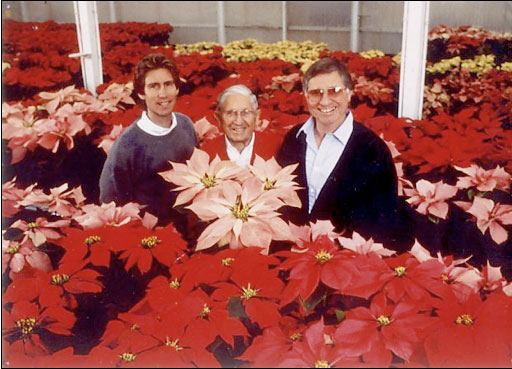 Paul Ecke III (left), Paul Ecke Sr., who died in 1991 at age 96, and Paul Ecke Jr. at the Ecke Ranch. Photo;(date unknown) courtesy of Ecke Ranch.
Giving away poinsettias to major television networks, the Eckes launched the poinsettia's holiday persona on screen, and also in print—Paul Ecke Jr. approached Sunset and Woman's Day magazines, convincing them that readers would adore poinsettias in holiday photography spreads. In response to editors' concerns that these were usually photographed in the summer, he developed a poinsettia variety that would bloom out of season, just for magazine product placement.
Between the marketing campaign and the new varieties, the Eckes soon had a monopoly on domestic poinsettia growing. Today, Paul Ecke III manages his family's holiday legacy, and remarks that his father and grandfather developed a very smart branding plan. In addition to launching the poinsettia as a holiday starlet, "they just started calling it 'the Christmas flower'," says Ecke. It worked.
With cameos on Johnny Carson and placement in Woman's Day magazine, the pointsetta became a holiday star.
Other growers eventually caught up with the Ecke's breeding techniques, and poinsettia sales took off in the following decades. More growers meant cheaper prices, so poinsettia enthusiasts were now designing holiday arrangements with multiple poinsettias, instead of just one.
And the tradition continues: approximately 75 million poinsettias will be sold this holiday. You can find varieties such as 'Ice Punch,' 'Silver Star Marble,' 'Ice Crystal,' and 'White Star,' all cultivars with white, pink, or patterned leaves, though the traditional red still dominates the market.
Other poinsettia facts:
- Contrary to popular warnings, the poinsettia is not poisonous. The Ecke Ranch has been known to stage poinsettia performances, in which employees eat the plants, just to prove a point (the marketing manager will concede to their bitterness).
- Botanically speaking, the poinsettia is a flowering shrub; the bright red "petals" are actually leaves called bracts.
- The poinsettia arrived in the United States in 1826, by way of Joel Roberts Poinsett, an American statesman, botanic enthusiast, co-founder of the Smithsonian, and the first United States Minister to Mexico, where the plant is called flor de noche buena, or Flower of the Holy Night. Poinsett introduced the shrub to nineteenth-century gardeners including John Bartram, and the plant soon became known as poinsettia.
- The Eckes popularized the poinsettia as holiday flower in the United States, but in Mexico, where it grows like a weed, Euphorbia pulcherrima has been long been associated with Christmas. According to sixteenth-century legend, a young girl couldn't afford a gift for her church's Christmas nativity scene. Instead, she offered a handful of weeds, which soon bloomed as beautiful poinsettias.
Anna Laurent is a writer and producer of educational botanical media. Photographs from her forthcoming field guide to Los Angeles are available for exhibition and purchase at her website.