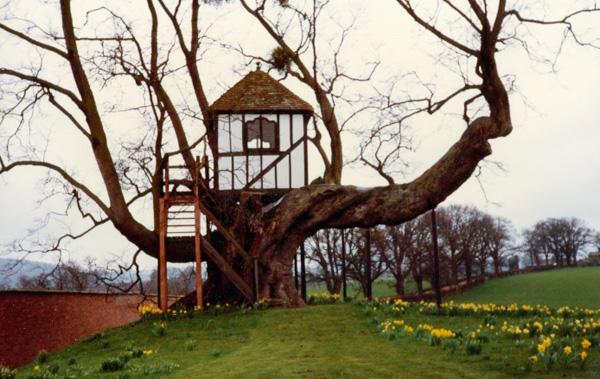 Photo by:
David Pitchford
One of the oldest treehouses in the world sits in a large-leaved lime tree (Tilia platyphyllos) in Shrewsbury, England. With its half-timber frame and tiled roof, the famous Tree House at Pitchford is a miniature version of the adjacent Pitchford Hall, an historic country estate. Historians believe the tree house was built in the mid-eighteenth century, and probably designed by Thomas Pritchard, a Shrewsbury architect. As for the tree itself, carbon-dating estimates the lime tree to be 900 years old (roughly twice the life expectancy of the species).
Both the Hall and the treehouse have entertained notable visitors; during the English Civil War, Pitchford Hall was a hideaway for Royalist commander Prince Rupert. Today, the estate is famously inhabited by a company of ghosts. And the Pitchford Tree House has been visited by three prime ministers, as well as Queen Victoria, who is said to have taken tea in the miniature Tudor dwelling. Modestly perched on the wide grey branches, the treehouse's oak floor measures roughly just large enough for a couple chairs and a tea table.
Anna Laurent is a writer and producer of educational botanical media. Photographs from her forthcoming field guide to Los Angeles are available for exhibition and purchase at her website.