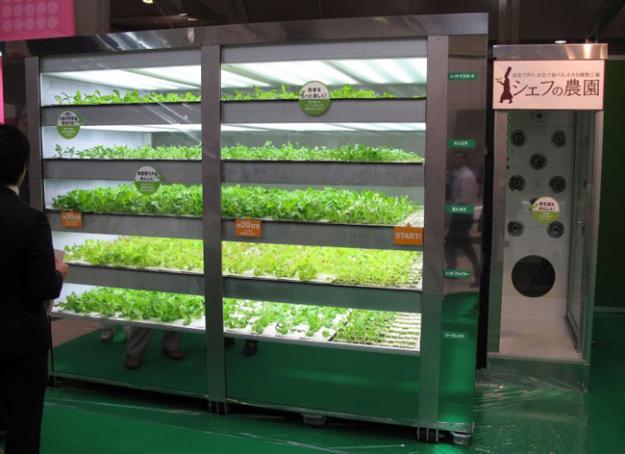 The future of farming is now and it is in the dark: A portable garden vending machine, called the Chef's Farm, offers a harvest of up to 60 heads of lettuce a day, without a ray of sunlight. The indoor vertical garden costs $90,000, a price that Japanese designer Dentsu hopes restaurants will be willing to pay for locally grown produce without the traditional troubles of transportation, crop variability, or outdoor growing space. The machine been touted as a gardener's solution to the apocalypse.
The chrome and metal farm cultivates seedlings in five nutri-culture beds under 40 watt fluorescent bulbs. Each of the five beds has their own cultivation controls, including temperature and lighting, so that five different vegetables can be grown at the same time. The seeds are planted in sponges, and the metal frames are moved from right to left as the seedlings grow. It takes about an hour to harvest 60 heads of lettuce, move the frames, and plant more seeds—about a day's work. And the yield is impressive, growing about 20,000 heads of lettuce a year.
Introduced to the open market, the Chef's Garden is an interesting turn in our concept of gardening and growing. The questions it answers—How to grow local produce in a dense urban environment? How to control climate variability? How to grow a lot of food quickly?—are matched with issues it presents—How does the labor efficiency compare with the required water and electricity? What happens to the climate if we bring plant photosynthesis indoors?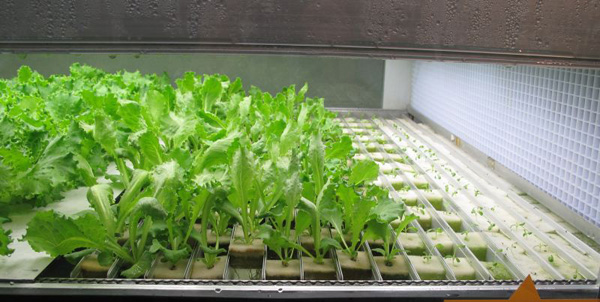 Mature plants are harvested on the left; seeds are planted at the right. Photo credit: Dentsu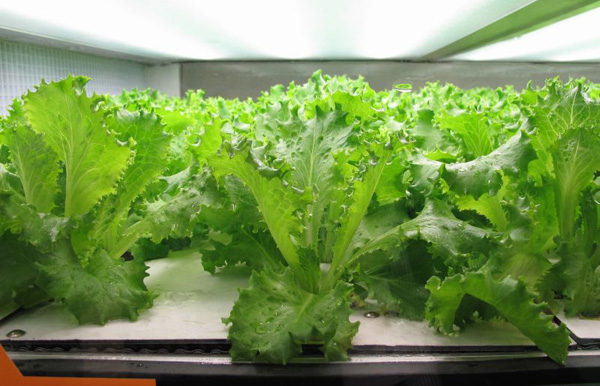 Photo credit: Dentsu
Anna Laurent is a writer and photographer. Her work explores how we look at plants, and how those plants behave.