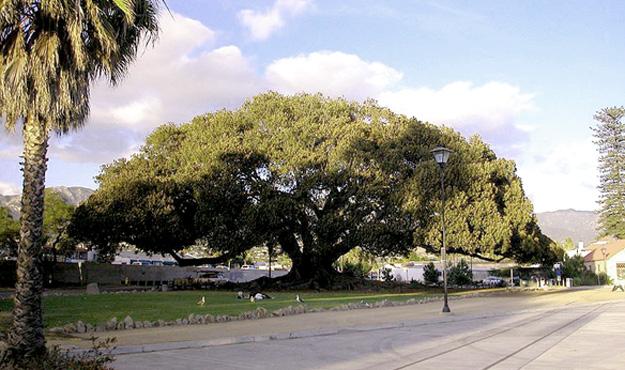 Photo by:
gailf548/flickr
In any landscape, the Moreton Bay fig (Ficus macrophylla) would be hard to miss. The tree's deep buttressing roots creep across the earth, a wide canopy sweeps the sky, and long arms of woody aerial roots cover the distance between. Older trees reach tremendous sizes, like those introduced in California in the early 1900s, and which are now local treasures in San Diego, Beverly Hills, and Santa Monica. The Australian native has settled in quite well and in Santa Barbara, it has become a legend. The coastal city's Moreton Bay fig is the largest in the country—the tree's circumference is 42 feet, its height is twice that, and the canopy spans almost 200 feet.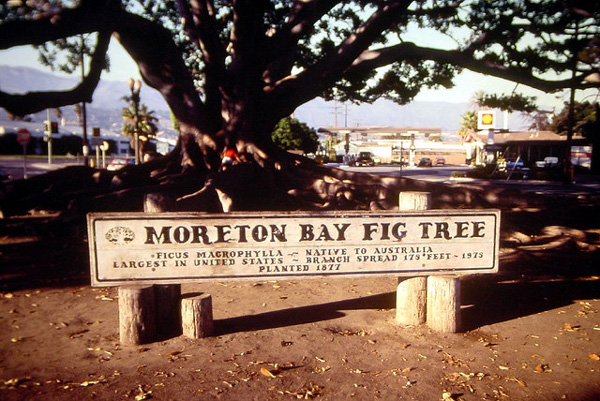 Photo credit: gem66/flickr
Local lore says that the tree was planted in 1876, by a young girl who received the seedling from a sailor. And the people loved the tree; nineteenth-century California adored the new exotic botanic imports, and Santa Barbara was no different. To the city, the fig tree has offered shade, tourism, and a superlative title (the tree was designated a historic landmark in 1970, and has since been placed on the California Register of Big Trees). In return, the tree has its own park (Fig Tree Park), a demographic of inhabitants (the "tree people"), and the tree has also received its own address. By 1984, several of Santa Barbara's homeless residents had taken up lodging at the tree. They submitted voter registrations, listing the fig tree's location as their address. A legal controversy ensued, and a mailbox sprung up at the tree. Today, the local post office denies that the address is legitimate, so I called the local homeless organization that serves Sunday brunch at "The Fig Tree." The director of the Organic Soup Kitchen confirmed the history, and the periodic appearance of a mailbox at 100 Montecito Street, the address of Santa Barbara's beloved fig and the only tree with its own address.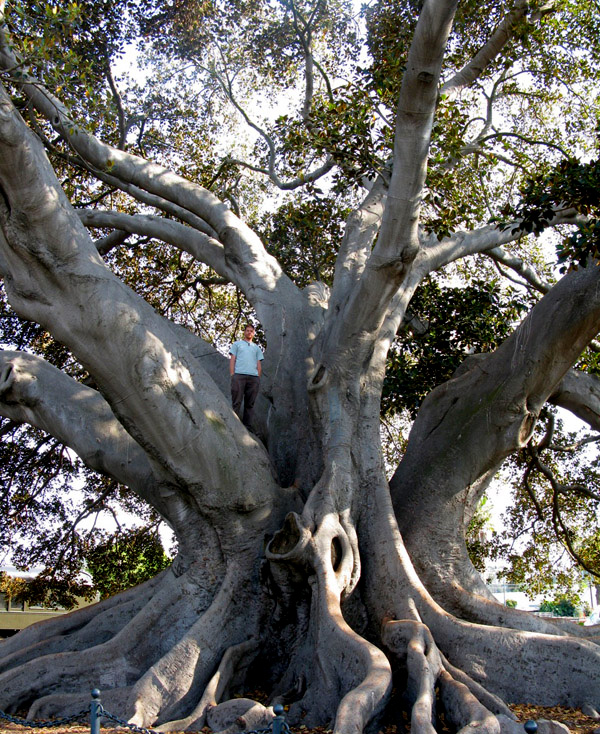 Santa Barbara's Ficus macrophylla, with botanist Dr. Matt Ritter for scale; photo credit: Matt Ritter
Anna Laurent is a writer and producer of educational botanical media. Photographs from her forthcoming field guide to Los Angeles are available for exhibition and purchase at the author's shop.