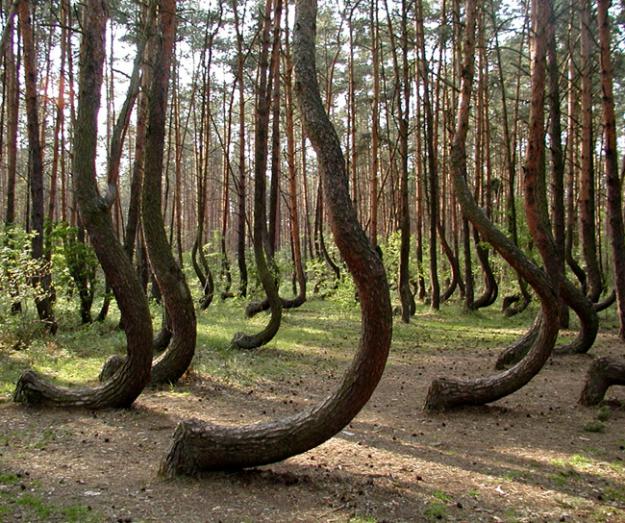 Photo by:
Maciej Sokolowski
No one really knows why the trees, in a small corner of western Poland, have grown like this. The small forest of about 400 pine trees all grow with a 90 degree bend at the base of the trunks. For lack of a scientific name, the collection of curved trees is known as The Crooked Forest. Disconnected yet synchronized in the same direction, the grove has the effect of a post-modern espalier.
The crooked trees live within a larger forest of pines with normal growth, all of which were planted in about 1930. Arborists estimate that the young trees grew at an angle for about ten years, at which point the began to turn towards the sky.
An inquiry into the tree's origins begins with what the trees experienced during those first ten years. Historians will remind that the trees were planted in a politically contested territory—at the beginning of World War II, the trees were in Germany. When the war ended in 1945, they were officially Polish pines. It's possible that the trees's cultivator was either exiled, or a casualty of the war.
The tree's curvature could be the result of natural pressures—soil, tree infestation, snow, or the availability of light. However, human intervention is believed to be more likely—guided to build bent-wood furniture, a boat hull, or the yoke for an ox-drawn plow. As a garden historian points out, a commenter on a post at discoverynews mentioned that his grandfather taught him to guide a tree's growth in a similar way, with the intent of crafting them into curved-handled canes. Could this have been a cane forest? Beyond the speculation, the origins of the Crooked Forest remain a mystery.