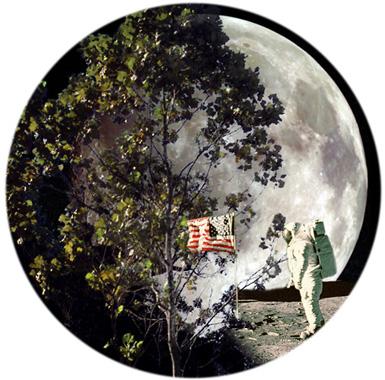 In the name of science or sentimentality, astronauts have been sending various artifacts into orbit since the early days of the space race. Sputnik 2 had Laika, the first dog in space; Apollo 11 carried fabric from the Wright brothers' plane; Apollo 15 held a piece of Captain James Cook's Endeavor ship. And, in 1971, Apollo 14 journeyed to the moon with hundreds of seeds. The seeds returned safely to earth, and the "Moon trees" were proudly planted across the globe as living symbols of mankind's giant leap.
Apollo 14 was NASA's third lunar voyage, and the seeds were transported to determine the effects of space on botanic specimens. The experiment was developed by Stan Krugman, a U.S. Forest Service geneticist, who provided the seeds, and Stuart Roosa, a former Forest Service smoke jumper and tree lover, who ported the seeds in a canister (Roosa's companion, Alan Shepard, brought golf balls on the mission). It contained about 450 seeds from several tree species: loblolly pine, sycamore, sweetgum, redwood, and Douglas Fir.
After circling the moon thirty-four times, the seeds journeyed back to the Forest Service.
After circling the moon thirty-four times, the seeds journeyed back to the Forest Service, where scientists examined their viability and whether they would grow normally. They did. In fact, their development was no different from their twins—seeds from the same parents—which Krugman had kept aside when the Apollo 14 canister was launched. Five years later, the sturdy moon tree saplings were dispersed across the United States and beyond, to commemorate the nation's bicentennial in 1976. President Gerald Ford called the trees living symbols of "our spectacular human and scientific achievements."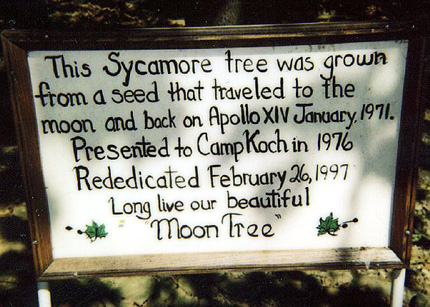 Cannelton, Indiana plaque. Photo credit: nasa.gov
Having managed to get them to the moon, NASA is now trying to track them down on earth. At the time, the trees were enthusiastically planted at elementary schools, police stations, gardens, and national monuments. Bicentennial celebrations even sent specimens to Brazil, Switzerland, and to the Emperor of Japan. After that, the Moon tree craze faded, and people neglected to mark where the lunar mementos were planted. Today, a bit of a moon tree revival has begun, as NASA scientist Dave Williams compiles a website with their locations (he encourages submissions, if you know of one). So far, the list notes whereabouts of 74 Moon tree plantings. Many locations are linked to photographs and more information about the planting; locations include Tilden Park in Berkeley, California; the State Capitol Building in Salem, Oregon; botanic gardens in Asheville, North Carolina, and Birmingham, Alabama.
And, to celebrate Earth Day in 2009, a legacy tree was planted at the U.S. National Arboretum in Washington, D.C. The "Moon Sycamore" was grown from descendent seeds of Roosa's Apollo 14 experiment. Deborah Gangloff, executive director of conservation organization American Forests, expressed the ceremony's significance: "Like space exploration, trees can also capture one's imagination. To plant a tree grown...from a seed taken to the moon, connects us with important people and events in history. By planting this Moon tree today, we hope to inspire a new generation to imagine the stars while protecting our life-giving environment."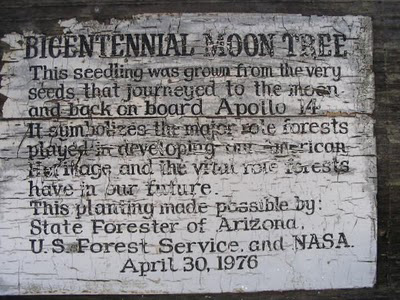 Flagstaff, Arizona plaque. Photo credit: pillownaut.blogspot.com
Philadelphia, Pennsylvania plaque. Photo credit: nasa.gov
Anna Laurent is a writer and photographer. Her work explores how we look at plants, and how those plants behave.