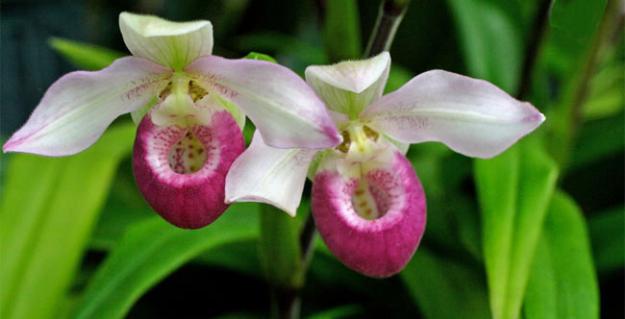 Photo by:
Theresa Boardman
If you're planning a wild orchid hunt, you could paddle through the mangroves of Papua New Guinea, or adventure into the Colombian rainforests. Or, you could consider a trip to Minnesota. The state's botanic ledger boasts 43 species of native orchids, a number that is impressive but not unusual—many central northern states have about the same—but Minnesota is the only state with an orchid as its most celebrated blossom: since 1902, the Showy Lady's Slipper (Cypripedium reginae) (also known as the Pink-and-White Lady's Slipper, or the Queen's Lady Slipper) has been Minnesota's state flower.
The swamp-dwelling orchid is one of the state's rarest wildflowers. Natural populations have recently decreased—mostly, it is believed, at the hands of horticulturalists eager to transplant the lovely specimen. The orchid is now protected by state law; it is illegal to pick or uproot the lady slipper. Conservationists will also warn that it is a waste of time—the orchid does not usually thrive outside its habitat. The list of failed cultivation attempts is long—including, most famously, Charles Darwin.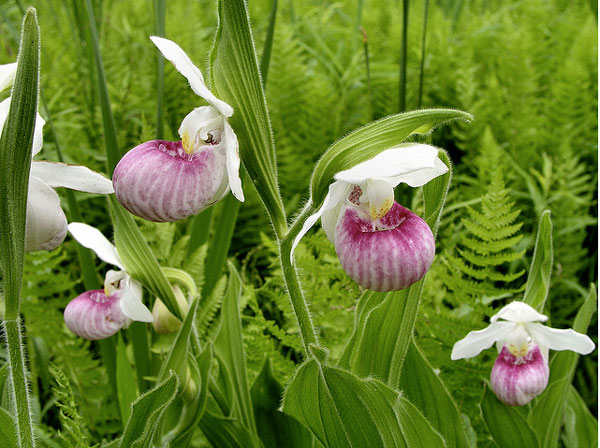 Photo credit: Flickr user pverdonk
Despite (and because of) the ways it eludes horticulturalists, the orchid is a subject of interest and adoration—in Minnesota, southern Canada, and England, where it was the second orchid introduced to the Royal Horticultural Society in London, in 1635. The plant grows slowly—4 to 16 years to develop its first flower, and only as tall as a pencil point in its first year. It is a prolific seed producer, with as many as 500,000 per year. Unfortunately, however, due to human intervention and climate change, the Showy Lady's Slipper still cannot replenish its populations each year.
Once established in their natural terrain the plant thrives. It lives for up to 50 years and grows up to 35 inches tall. Its scientific name, Cypripedium reginae, is derived from the Latin for "slipper of Venus" and "queen." In Minnesota, it reigns over tamarack bogs, damp woods, wet prairies, and also an 81-mile stretch of Highway 11, which was named a Minnesota Wildflower Route in 1990, in honor of the many Showy Lady's Slippers that were blooming alongside the road. Today, Minnesota's Chamber of Commerce estimates that 800,000 are currently growing along the highway route.