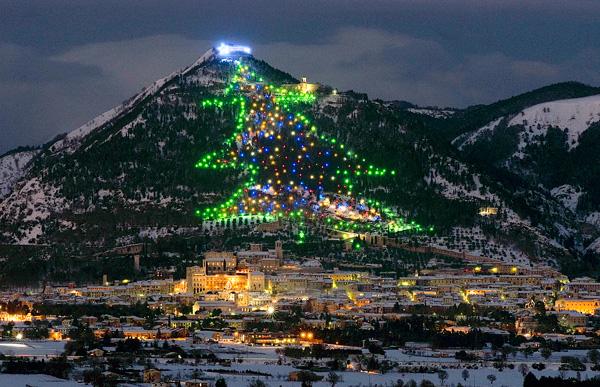 Photo by:
viaggiandofacile.it
Here are a selection of extraordinary Christmas trees throughout the world—most are local traditions, many are breaking records, and one appears to break through a suburban roof.
Get more from Garden Design
Mount Ingino Christmas Tree In 1981, the people of Gubbio, in Umbria, Italy, designed a lighting display that has become an annual tradition. Blanketing the slopes of Mount Ingino, this year's illuminated tree is 2,130-feet (650 meters) high, 1,148-feet (350 meters) wide, and can be seen from 50 kilometers away. Its lights were ceremonially switched on remotely by Pope Benedict XVI, who spoke to Gubbio via video from the Vatican: "The wish I would like to give is that each one of us could bring a little light to the environment where we live: in our families, at work, in our districts, our countries and in the towns." In 1991, the Guinness Book of World Records named Mount Ingino's Christmas Tree the largest in the world—of course it is not a true tree, but rather, an arboreal constellation of heavenly proportions.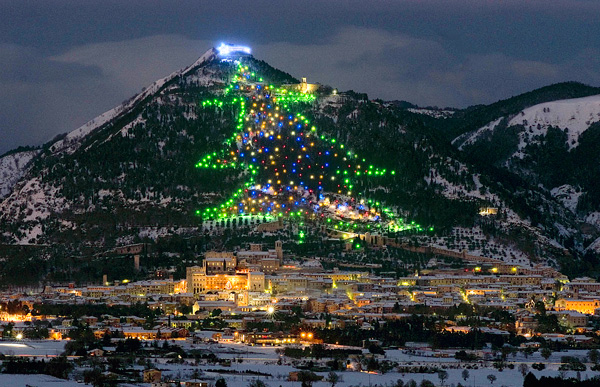 Mount Ingino Christmas Tree, outside the city of Gubbio in Umbria, Italy. Photo credit: viaggiandofacile.it.
Molalla's Singing Christmas Tree Named after the river that runs by it, Molalla, Oregon, was formerly a logging town, and is known for its annual Buckeroo Rodeo, Apple Festival, and its Singing Christmas Tree. This year was Molalla's 17th annual show, in which seven choirs from local schools and the community performed as the "Singing Christmas Tree." The theme was "Memoirs of Christmas," directed by Tim Friesen, choir director of the Molalla High School Chorale Department.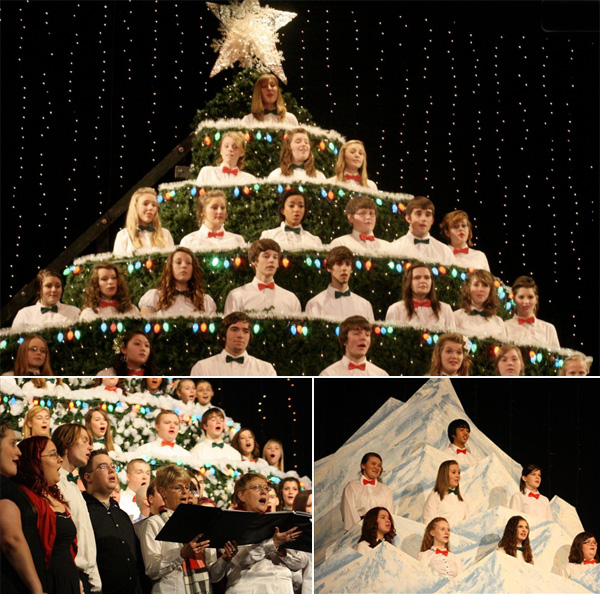 17th annual Molalla Singing Christmas Tree, Molalla, Oregon. Photo credit: Bethany Monroe.
World's Tallest Lego® Christmas Tree Standing 38-feet tall and designed with 600,000 bricks, the faux-fir Lego® Christmas tree in London's St. Pancras Station took two months of off-site assembly, and two weeks of night-time work to install in the station's lower concourse. Each of the tree's 172 Lego® branches and 1,200 Lego® ornaments were assembled by hand by a team of just two people. The World's Tallest Lego® Christmas Tree will glow until January 3th.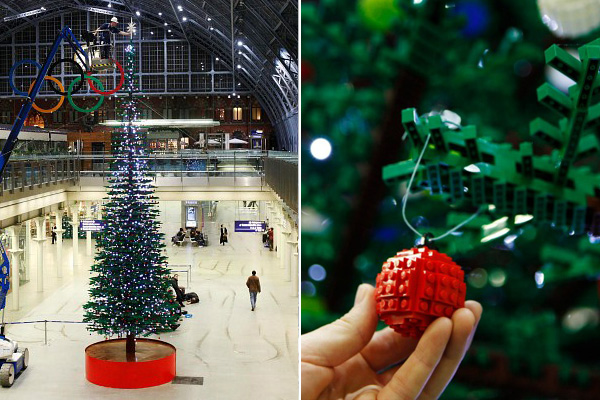 World's Largest "Faux-Fir" Lego® Christmas tree at St Pancras Station in London, England. Photo credit: Lego® and Bright Bricks.
The World's Largest Floating Christmas Tree
Perched on the surface of Lagoa Rodrigo de Frietas in Rio de Janeiro, this year's
floating Christmas tree
is 279-feet tall, weighs 542 tons, and has 3.3 million bulbs. It has been a tradition since 1995, becoming grander each year; a floating frame was added in 2006, and this year's unveiling included fireworks and a Cariocan party by the lake. The tree is illuminated nightly from 7:30pm until 2am (3am on weekends) until January 6th.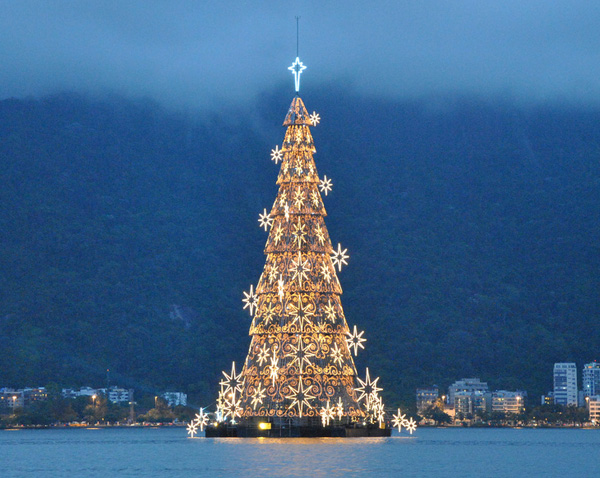 World's Largest Floating Christmas Tree in Lagoa Rodrigo de Freitas, Zona Sul, Rio de Janiero. Photo credit: Flickr user Leandro's World Tour.
Roof-Breaking Christmas Tree (2008)
More art installation than holiday accent, Greig Howe's 35-feet tall
tree
appears to break through the roof of his two-story house in Bournemouth, England. He selected the tree to redeem his son's disappointment with the previous year's 5-feet tree. Installing the tree required rope, a chainsaw, and the help of seven friends to reassemble the three sections.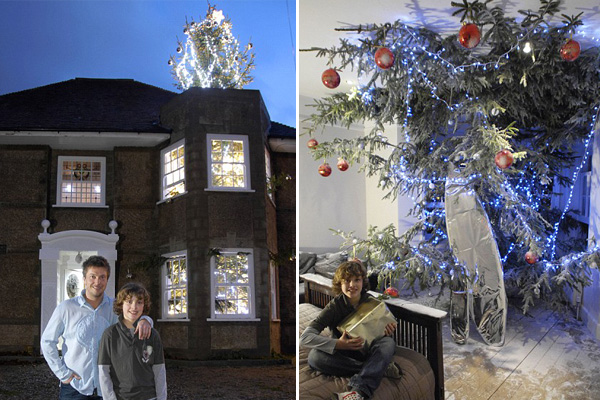 Greig Howe and his son Harry, 11, with their three-piece Christmas tree, Bournemouth, England. Photo credit: bnps.co.uk.
Energy Efficient National Christmas Tree Lighting
As it has every year, the
National Christmas Tree
in Washington, D.C. was ceremoniously lit on December first. This year, the tree is more energy efficient than ever, and just as spectacular. It is designed with 65 sets of programmable color-changing LED lights and 160 starburst ornaments, yet weighs in at under 2000 watts, thanks to GE's energy efficient design (GE has been lighting the National Tree since 1962; in 2007 the National Park Foundation began requesting LED lights to reduce the carbon footprint. The link above includes a nice timeline of National Trees of Christmas past.).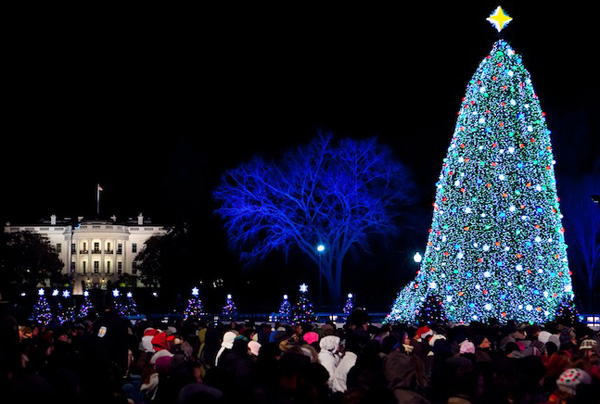 GE's energy efficient National Christmas Tree, Washington, D.C. Photo credit: thenationaltree.org.
Anna Laurent is a writer and producer of educational botanical media. Photographs from her forthcoming field guide to Los Angeles are available for exhibition and purchase at her website.