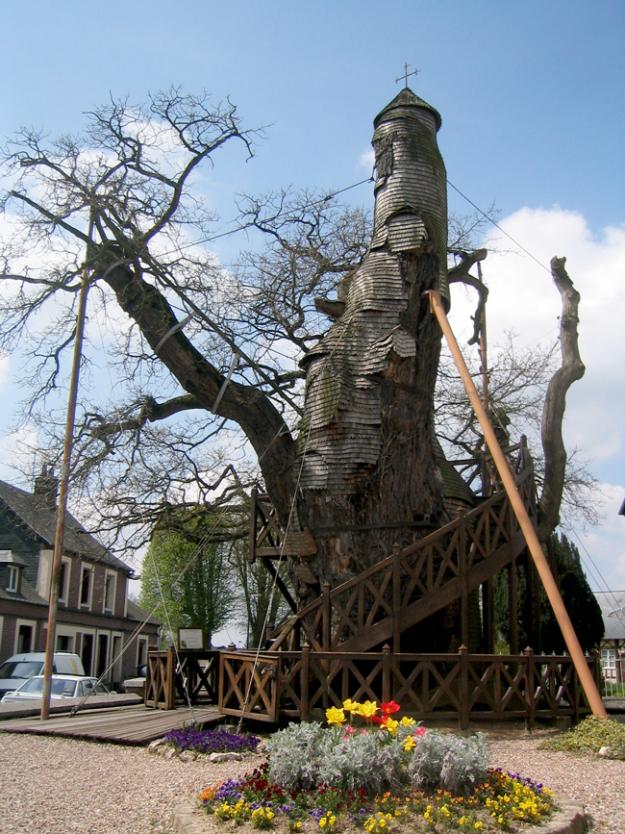 Photo by:
Ji-Elle/Wikipedia
If you happen to be in the small French farming village of Allouville-Bellefosse this coming Monday, August 15th, you might see a devout procession climbing a spiral staircase and disappearing into an ancient oak tree. Locals will reassure you that this is not unusual. The occasion is the Assumption of the Virgin, for which an annual pilgrimage is made to Chêne Chappelle, or Chapel Oak, one of the oldest known trees in France. It's a fairy tale cathedral that holds a timeline of French history in its rings, and two tiny chapels in its hollow trunk.
Locals will also tell you that the tree is more than 1,000 years old. A sapling during the reign of Charlemagne, by 1035 it was already venerated—in the year that William the Conqueror would become Duke of Normandy, he prayed at its base, according to lore. Scientists will contest that the oak isn't quite as ancient, but their estimated 800 years still qualifies Chêne Chapelle as one of the oldest trees in the country. Either way, in the past several centuries, it's become one of France's most famous trees, and the only one to gather a congregation within its exalted bark.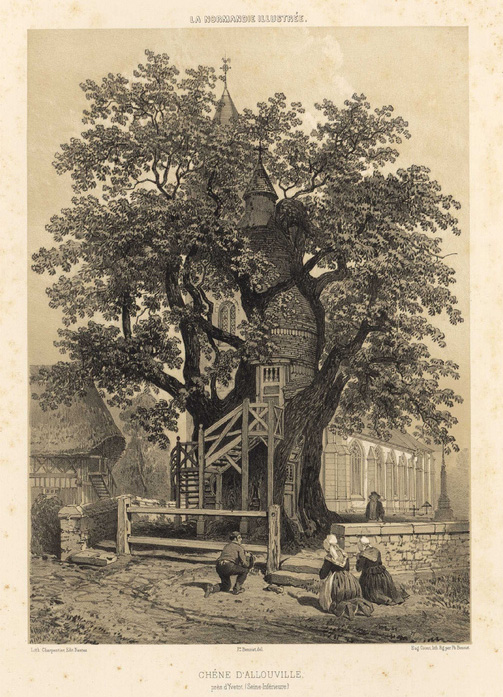 Lithograph from "La Normandie Illustrée," Felix Benoist, 1850s.
The chapels were built in 1696, when lightening burned through the tree. Two pious locals—the Abbot du Detroit, and father Du Cerceau—regarded the hollowed trunk as a potential new sort of sanctuary to the Virgin Mary. They built a small altar space, which they would call Notre Dame de la Paix (Our Lady of Peace). Then, an exterior spiral staircase and a second small chapel was added. This was the Chambre de l'Ermite (the Hermit's Room).
Thus established as a symbol of clerical power, the oak literally fell under fire during the French Revolution. In 1793, a insurgent crowd threatened to torch the tree in the name of a new republic and church. Again, a villager swept in and updated the oak tree's image, renaming it the "temple of reason" (a sacrosanct epithet during the Enlightenment). A plaque was hung, and the mob retreated.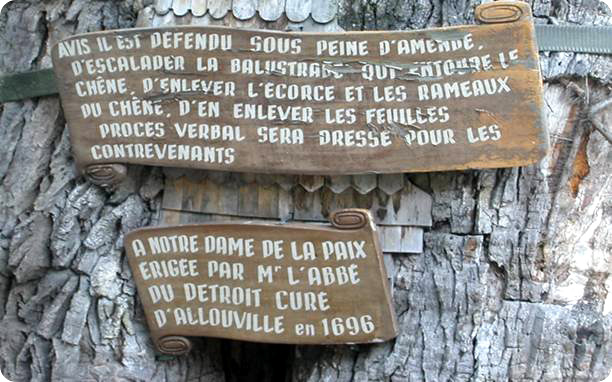 Photo credit: allouvillebellefosse.fr
Today, Chêne Chappelle's congregation gathers twice annually for Mass, and once for the August 15th Assumption of the Virgin. The 33-feet tall original oak is not in good condition; it has buckled under the weight of so many years and so many visitors, and its bark is almost gone. However feeble, the aging temple is bolstered by poles, oak shingles, and a village's tales of kings, warriors, troubadours and village supplicants, who have knelt at Chêne Chappelle–by its soil, or at its chapel.
Related: For the less devout, you might be interested in the bar inside the largest baobab tree.
Anna Laurent is a writer and producer of educational botanical media. Photographs from her forthcoming field guide to Los Angeles are available for exhibition and purchase at the author's shop.