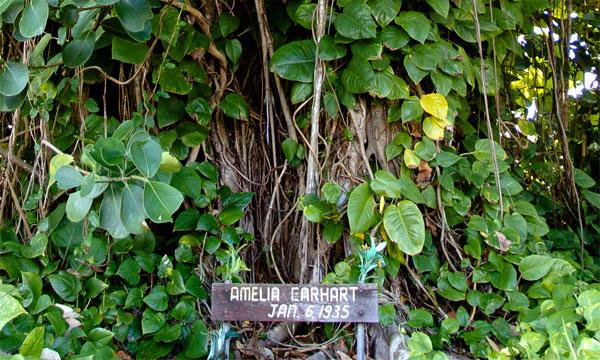 On the mainland, celebrities get a Hollywood star; in Hawai'i, it's a tree on Banyan Drive. I drove through the trees on a recent visit to the island, dashing out of the car to stand under the towering trees and photograph the painted nameplates. Hawai'ian landscapes are defined by their plants, and so it's entirely fitting that the island catalogs its stars with this ribbon of trees. Winding along the coast in Hilo, a city on the lush, eastern side of Hawai'i's Big Island, Banyan Drive is an archipelago of banyan fig trees, each with a plaque to honor a famous person. In most cases, the trees were planted by the celebrities themselves.
Mostly planted in the 1930s, '40s, and '50s, they memorialize a variety of notable people: American movie stars, Hawaiian royalty, and assorted explorers and politicians. The canopied path weaves through fancy hotels and a golf course, and begins just past an imposing bronze statue of Hawai'i's revered King Kamehameha the Great. Banyans are not native to Hawai'i—but, like many plants on the islands, they were introduced so many years ago that they have become naturalized, and are now a prominent feature of the landscape.
After circling the moon thirty-four times, the seeds journeyed back to the Forest Service.
The tradition began in 1933, when Cecil B. DeMille, filming a Hollywood picture on location in Hawai'i, planted a banyan tree by the water. President Franklin D. Roosevelt added one on his visit to the island in 1934. The island saw the beginnings of a great tradition, and, over the next four years, forty new banyans were planted. Notably, Amelia Earhart planted a banyan in 1935, several days before she launched the first solo flight across the Pacific Ocean. Of the others, some are major stars on an international stage—Louis Armstrong, Babe Ruth, Richard Nixon—and some are minor players, locally extolled—Hawaiian princess Abigail Kawananakoa, vulcanologist Thomas Jaggar, hotelier William Kimi.
They are tremendous specimens, wide and tall, with tiers of aerial roots that descend towards the ground, draping their branches like commemorative garlands. Individually, each the tree is an impressive tribute to its respective celebrity; together, the banyans form a sweeping canopy that creates the effect of a memorial tunnel. Several of the banyans have fallen over the years—tidal wave casualties in Hilo, known as the "tsunami capital of the United States." Today, Banyan Drive includes fifty trees—lowering their roots, and upholding a lovely tradition.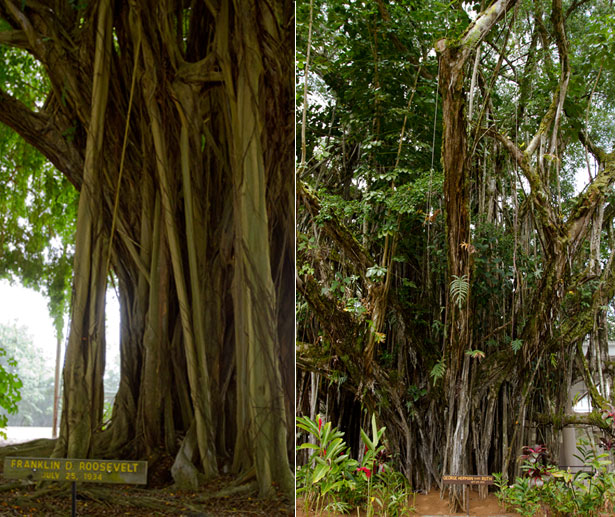 Franklin D. Roosevelt, 1934 (left); George Herman "Babe" Ruth, 1933 (right). Photo credit: Anna Laurent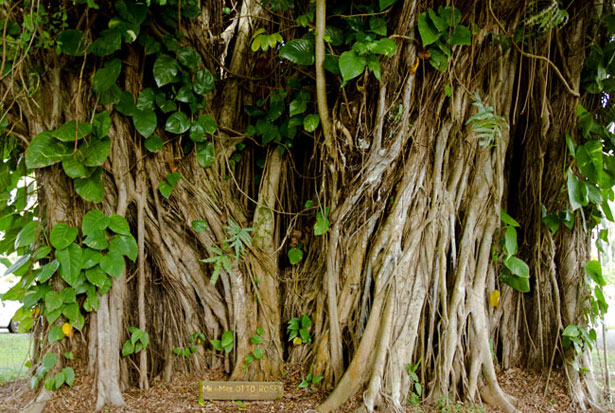 Mr. & Mrs. Otto Rose, 1935. Photo credit: Anna Laurent
Anna Laurent is a writer and photographer. Her work explores how we look at plants, and how those plants behave.