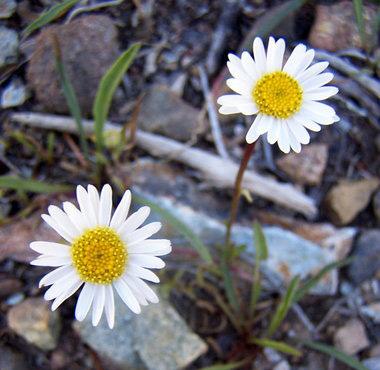 Photo by:
Wendell Wood/Oregon Wild
To build a road, to endanger a flower—that's the controversy in southern Oregon, where botanists have identified an endemic wildflower and the U.S. Forest Service plans to open a road that runs through its habitat. This sort of negotiation is not new—defining the line that should not be crossed, as development encroaches into the natural world—but here in Oregon, the Erigeron stanselliae has a special story. It's very rare and it has sentimental resonance. Erigeron stanselliae, or Veva's erigeron, was named for Veva Stansell, a self-taught "botanist laureate" in the local native plant community.
Erigeron stanselliae has been found in only two locations, both in southern Oregon, in serpentine soils that are unique to the area.
When described in 2011, the daisy-like flower was identified as "The New Endemic Species in the Oregon Flora." Highly localized, Erigeron stanselliae has been found in only two locations, both in southern Oregon, in serpentine soils that are unique to the area. It was collected in the 1970s and 1980s, but misidentified as a different species of Erigeron (there are 40 growing in the state). Veva Stansell was one of these early collectors, and she led a University of Oregon botanist, Kenton Chambers, back to the spot in 2009. There they were able to recover specimens, and Veva's erigeron was named as its own species.
Veva is well-loved in the local community. Born in Oregon in the early 1920s, she taught herself basic botany, navigated the state's rough terrains collecting species and became known as a local plant expert. A bulletin (October 2010) by the Native Plant Society of Oregon commends her contributions, pointing out that she grew up in an era when people had a different relationship with their gardens, when "school could be suspended if conditions created an agricultural emergency. It was not uncommon for students to miss school in order to work the muddy lily bulb fields, pinching off the flower buds to promote bulb growth, or weeding between the rows."
Veva's Erigeron has been identified in two locations, one of which is alongside a now-closed road in the Rogue River-Siskiyou National Forest. Opening the road to motor vehicles could endanger the rare, endemic wildflower, say conservation groups and botanists. The threat has renewed their efforts to identify new Erigeron stanselliae habitats—there's hope that the flower might be found in other serpentine soils in Southwest Oregon and Northwest California. Next time you're on a hike in the area, remember Veva, and keep an eye out her small white wildflower!
Anna Laurent is a writer and photographer. Her work explores how we look at plants, and how those plants behave.