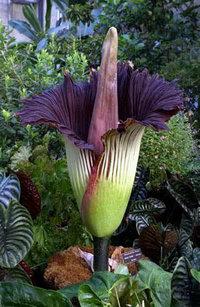 Not since the likes of Audrey II in Little Shop of Horrors has there been a diva like Lois the Corpse Flower, in Houston.
The corpse flower or the Amorphophallus titanium, (which means "giant mishappen penis") is native to the Indonesian rainforest, but is cultivated at many botanical gardens around the world. They bloom infrequently, and even more rarely when cultivated. So when a corpse flower does bloom, showing off its giant blossom (technically, a spathe) and horrible smell (hence the common name of "corpse flower"), they tend to attract large, curious crowds.
Last year, the Houston Museum of Natural Science's corpse flower, Lois, began getting a rabid following when she started her own Twitter stream, one unaffiliated with the museum. She described herself on Twitter as "I'm a big flower, but I'm a bigger diva."
And soon the tweets began rolling out, revealing a corpse flower who had a former flame, Michael (in Sumatra), and who was quite demanding all day and all night. Some of her tweets included sass like: "for a city with open bayous of untreated sewage, you all seem overly intrigued with how bad i smell #corpseflower #houstonitsworthit" and "what's my pre-bloom ritual? pilates, espresso, almodovar films and plenty of diana ross #corpseflower #diva #shybloom."
Anyway, now that Lois is in between blooms, we scored an interview with her to see how she's doing out of the spotlight:
Garden Design: Lois, what made you decide to turn to Twitter as a way to share your thoughts with the world?
Lois the Corpse Flower: Being marooned at the Houston Museum of Natural Science's Cockrell Butterfly Center left me with few other options to get my voice out there. Considering I'm a plant, I rarely think beyond 140 characters anyway.
GD: Lois, how is it living in Houston versus Sumatra? Do you miss your ex, Michael?

Lois: The Houston humidity keeps me from feeling too homesick, although Michael sometimes comes to mind. As my astrologist says, "Just because two people are in love doesn't mean that they should be together."
GD: Have you met/are you related to the other corpse flowers in the country? Like the one here in Brooklyn?
Lois: The Brooklynite flower and I sometimes Skype, but otherwise I'm a Dixie corpse flower, through and through.
GD: Now that you've bloomed and it's all over, what are you spending your days doing?
Lois: Maintaining strong friendships and listening to Voltaire books on tape. Occasionally I scan 1stDibs.com. What can I say? I'm nesting.

GD: What's your reaction to the love you've gotten in Houston? Why were Houston-ites so into you?
Lois: It's "Houstonians," not "Houston-ites."
GD: Did you like your turn in front of the camera in the documentary about you?

Lois: As we all know, I'm not camera shy, so, yes, I loved it. God knows my tan back then was 100% better.

GD: Are there any other plants that you consider fellow divas?
Lois: Have you ever tried to keep an orchid happy? It's impossible. I've also never gotten along with lilies or hydrangeas, but maybe I just don't like weddings.

GD: Any other thoughts you would like to share with the gardendesign.com readers, Lois?
Lois: I just want to thank the readers of gardendesign.com for taking an interest in me. Bloom on.
Special thanks to Steven Thomson for connecting us with Lois.