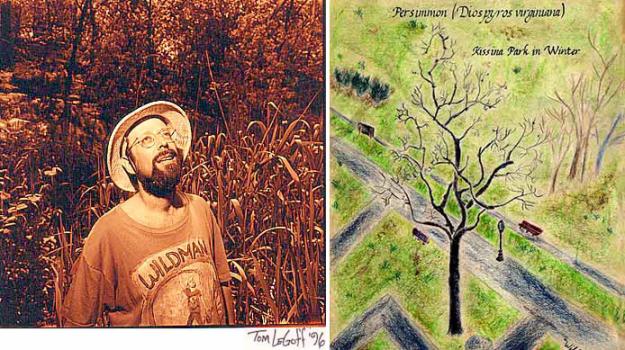 Photo by:
Tom LeGoff (right); Steve Brill, book llustration (right)
What is a weed? A plant whose virtues have not been discovered.
— Ralph Waldo Emerson
Cattails, burdock, dandelions and garlic mustard are the ingredients for your new favorite summer soups and salads, according to Steve "Wildman" Brill, an urban forager, nature educator, tour guide, and an expert on the edible city. He's also the creator of the new Wild Edibles app for the iPhone to help urban foragers forage with ease.
Since 1982, Brill has been lauding the unsung virtues of ubiquitous weeds and common plants. The world of wild edibles looms large and free, and within it grows a wealth of herbs, greens, mushrooms, fruits, and seeds. Who knew that the wild American persimmons (Diospyros virginiana) are sweeter than commercial varieties, and that they grow in Central Park? Brill does, and he'd love to show you where.
Perhaps you've seen him in New York City parks—the enthusiastic wild-food expert is hard to miss, extrapolating the virtues of oyster mushrooms and violets to an audience of Park Slope families and city chefs. In between a savory bite or two, he might regale the virtues of mugwort (Artemisia vulgaris) with a couple verses of his signature beat-boxing rap. In his 60s, Brill attributes his surprising energy to a diet of wild plants he's been collecting since he began his urban foraging campaign twenty years ago. His tours include etymological trivia and medicinal tips—he'll point out the flowering yarrow (Achillea millefolium), noting that it was named for the warrior Achilles, who used the plant to staunch blood flow of battlefield injuries—and cooking tips—don't miss the common spicebush (Lindera benzoin), whose boiled leaves make for a fragrant cup of tea. Young botanic enthusiasts are Brill's favorite; he encourages children to learn about urban botany, and promotes a special birthday party tour, during which he'll perform a Happy Birthday rap in the woods.
He is an indefatigable advocate of his beloved weeds, with a criminal record to prove it. In 1986, Brill was arrested on charges of "criminal mischief" for eating a dandelion in Central Park. He was soon released—as Brill recounted, "all the plants that i picked, i ate, so I ate the evidence. so they don't really have anything on me"—and, in a wonderful twist to the story, was hired by the Parks Department to give educational tours of the city's wild plants. The story was a media favorite, with coverage from the New York Times, Chicago Tribune, and more. In 1987, Brill gave David Letterman an urban foraging cooking lesson, after which they enjoyed a Central Park salad.
If you're not on the east coast to join a tour (tour calendar), you can read his book, Identifying and Harvesting Edible and Medicinal Plants in Wild (and Not-So-Wild) Places (Harper-Collins, 1994), or download his recently-launched field guide app.
Anna Laurent is a writer and producer of educational botanical media. Photographs from her forthcoming field guide to Los Angeles are available for exhibition and purchase at the author's shop.