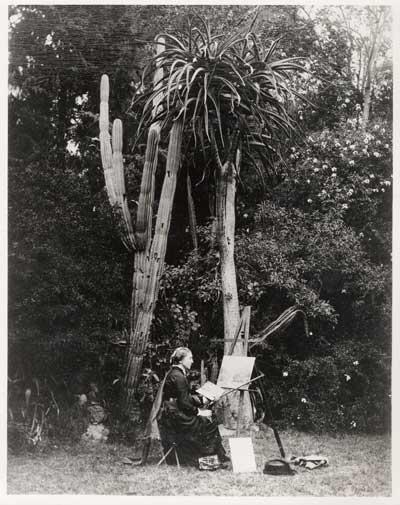 Photo by:
Courtesy of Marianne North Gallery at Kew Gardens
Victorian artist Marianne North, one of the only women of her time to travel to places like the Seychelles Islands, Australia, and Chile, and who left behind a trail of impressive art and writing about her botanical discoveries, is not a household name. But that might just change with a new book and exhibit.
North is the only female artist with a permanent solo exhibition in Britain, housed in London's Kew Gardens; she was the daughter of a Liberal MP; and she was close friends with many literary and scientific celebrities of Victorian England, including Charles Darwin, George Eliot, and Edward Lear, all three of whom admired her work. Yet North's reputation has faded: her paintings sat in obscurity for years at Kew, decaying from humidity and leaky walls, and few biographies or analyses of her work have been published.
A recently released collection of North's travelogues entitled Abundant Beauty: The Adventurous Travels of Marianne North, Botanical Artist (Greystone, $16.95), and the online gallery of her paintings at Kew, help sketch out her quirky place as an artist in the turbulent late 19th century.
In 1871, when a 40-year-old North set out after the death of her father to travel around the world and to paint as many of world's flora in oils as possible, she unwittingly found herself both ahead of and behind her times. In the art world, she was definitely not part of the avant-garde; in France, Claude Monet and Pierre-Auguste Renoir had already started their Impressionist paintings, creating works that were worlds away from the status quo of a polished depiction of nature.
North went around the world twice, in fifteen years, traveling by train, boat, mule, and on foot, to every continent, except for Antarctica. In Brazil, where she spent 13 months, North painted lush landscapes and tropical flowers with tight brushstrokes and clean lines—a style that would soon be left behind with the revolutionary style of the Impressionists. North didn't perceive or paint her subjects in a particularly unique way, but she relayed every minute detail of a plant, flower, or landscape with breathtaking precision. Her paintings give you a straight, dispassionate look at an unfamiliar world.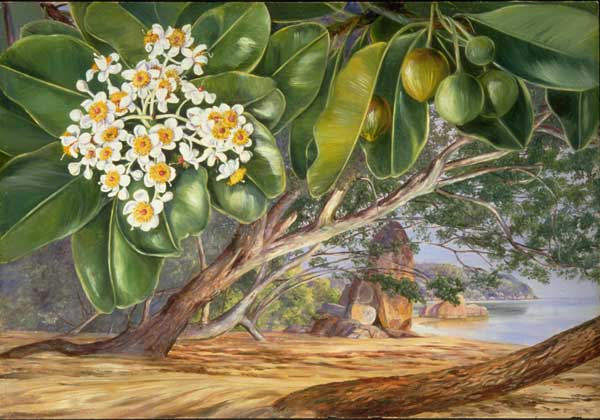 "Foliage, Flowers, and Fruit at the Takamaka, Praslin," Courtesy of the Marianne North Gallery
North may not have been breaking any artistic boundaries with her work, but her paintings were forward-looking in another way. In a time when cameras were cumbersome and expensive, her paintings were an invaluable resource for cataloging non-European species of plants in a visual medium. And in the long wake of Darwin's On the Origin of Species, published in 1859, the world's biodiversity was a hot topic. In Laura Ponsonby's introduction to Abundant Beauty, we learn that when Darwin advised North to travel to Australia and New Zealand and document the countries' flora, the artist "took it as a 'Royal Command' and went at once." Her work was so appreciated in the botanical community that five species of plants have been named after her (Northea hornei (pictured below), Nepenthes northiana, Crinum northianum, Areca northiana, and Kniphofia northiana), four of which she introduced to the European world with her paintings and writing.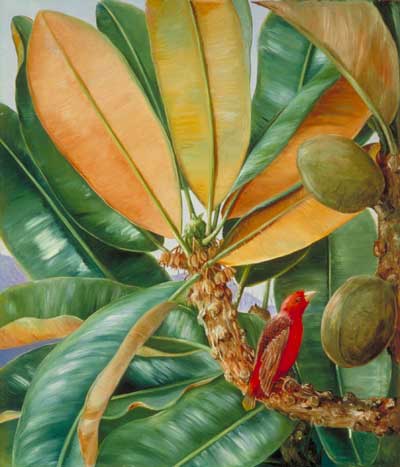 "Foliage, Flowers, and Fruit of the Capucin Tree of the Seychelles," (Northia hornei) Courtesy of the Marianne North Gallery
Being a much more talented artist—and apparently singer—than travel writer, Abundant Beauty is best read as an accompaniment to North's paintings rather than a work of literature in its own right. In relating her adventures in Brazil, California, Japan, India and Australia, she writes with callous disregard for the people and cultures she encounters, instead focusing with childlike fascination on the nature around her. Writing about an expedition in Brazil, she seems to sum up her whole philosophy of travel with the words: "All these expeditions showed the fresh beauty of nature and the misery of humanity."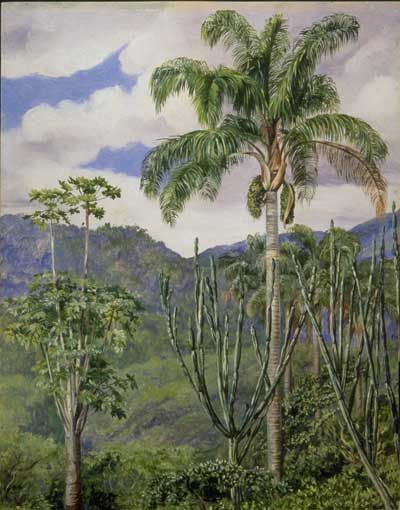 "View in Brazil near Ouro Preto with Oil Palms," Courtesy of the Marianne North Gallery
But perhaps because North is so unconcerned with the human world on her travels, there is ample space in her narrative for lyrical, cinematic descriptions of natural landscapes, like this one in Brazil: "There were orange-flowered cassia trees (whose leaves fold close together at night like the sensitive plant) and scarlet erythrinas looking like gems among the masses of rich green; exquisite peeps of river, winding below its woody banks or rushing among great stones and rocks, came upon us and were gone again with tantalizing rapidity."
Imagery like this makes you want to take in more of what North saw on her voyages, making Abundant Beauty the perfect primer to North's massive body of work—832 paintings—on display at Kew's newly refurbished and updated Marianne North Gallery, which North offered to build in 1882, provided that it would display all of her paintings. The gallery is worth visting—whether virtually or in person—to discover a very thorough botanical record of the world in the late 19th century.