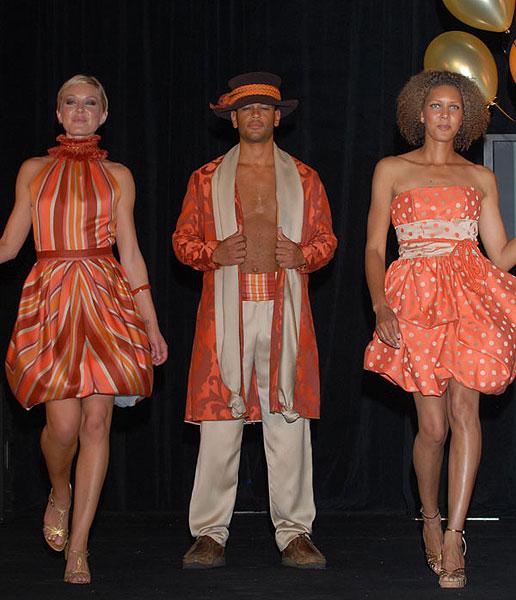 Photo by:
courtesy of Sunbrella
If you've been involved in designing outdoor rooms for more than a dozen years, I don't have to tell you that the fabric options have expanded exponentially. Gone are the days when you had to settle for PVC strapping or sandpaper-like fabric that was sure to expire as quickly as the dog days of summer.
Today's outdoor fabrics are sophisticated, durable and as soft as any fabric that your might select for your interior design projects. Not surprisingly, they are widely used indoors for dining, living room and even bedroom applications.
To illustrate the incredible softness and beauty, we frequently sponsor fashion shows. An event like this clearly sends the message that this isn't your mother's outdoor fabric. One of the most common questions I get is, "Can these fabrics really be left outside?" Indeed, they can.
The fade- and stain-resistant properties of Sunbrella are inherent at the fiber level. Using proprietary formulations, color and UV stabilizers are part of the recipe that starts in a colorful liquid state, is extruded as Sunbrella fiber and then works its way into the most luxurious fabric designs you can imagine. We like to use the carrot and radish analogy. Traditionally dyed or printed fabrics are like a radish. If you look at them through a microscope, the color is on the outside of the yarn or surface of the fabric much like the red color of a radish is only on its exterior. Sunbrella is like a carrot. No matter how you slice it, the color runs throughout, so you can't peel it away.
Sunbrella was commercialized in 1961 as an awning fabric to replace cotton which degraded quickly in outdoor applications. We quickly moved to boat covering and enclosure applications where the limits of most fabrics would be tested by the rigors of the high seas, but not Sunbrella. We survived at sea as well as on land and in the early '80s began the task of taking our fiber technology to outdoor furniture and eventually to indoor furniture, sheers, rugs and throws.
The Sunbrella fabrics shown in the photo above are part of the Horizons Collection available through Silver State Fabrics. To see a video of them on the runway at the 2009 Casual Market in Chicago click here.