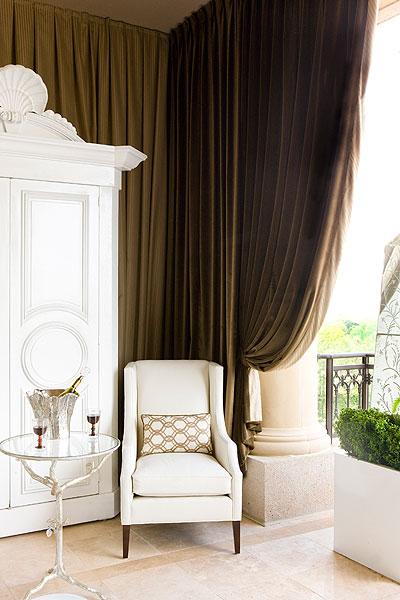 Photo by:
courtesy Boxwoods Gardens & Gifts
Drapery panels, with their sometimes overly formal patterns and constructions, may evoke thoughts of your grandmother's formal living room, but they are worth revisiting in your outdoor living spaces. Whether you choose an ethereal sheer, simple canvas panel or luxurious velvet, outdoor drapes will drastically change the personality of your outdoor room.
As shown in the photo, velvet panels can create a sense of drama and sophistication on a covered terrace, but because they are Sunbrella, they could also be used in an open outdoor space to provide privacy or to glam up your outdoor dining room. This installation by Dan Belman of Boxwoods Gardens & Gifts in Atlanta proves that your outdoor spaces can be just as luxurious as the rooms inside your home – maybe even more so.
When installed in sunrooms or covered outdoor spaces, drapery panels make it easy for you to control the amount of light you allow into the space just as you would indoors. They provide a soft flow from covered spaces to the back yard while creating an easy transition from interior space to outdoor living areas.
To create a sense of continuous design, use colors and fabrics that tie your indoor palette to the colors and textures found in your landscape. If it's privacy you need, use a heavy fabric like Sunbrella Velvet and back it with a complimentary color of Sunbrella Canvas to draw a new color into the palette.
For a sense of romance, make panels of Sunbrella Sheers (available in 54", 60" and 118" widths). Simple pole-, tab- or grommet-topped panels, are ideal for simple vertical treatments, but long, hemmed panels can be threaded through tree limbs, bunched at the top of a gazebo or simply draped over an archway for added interest.
If you like the romance of sheers but love brighter colors, make a panel of a brightly colored Sunbrella Canvas like Aruba, Coral or Ginkgo or even a soft stripe like Foster Surfside and overlay it with a sheer panel that is attached at the top only. Hem both panels to the inside so that you create a completely reversible panel with a fun color facing out on one side and a softer color filtered by the sheer on the other.
Whether you're trying to block your neighbors' view of your patio, create a romantic dining area or simply filter light coming into your sunroom, outdoor drapery panels made of beautiful, durable Sunbrella fabrics provide the perfect solution.