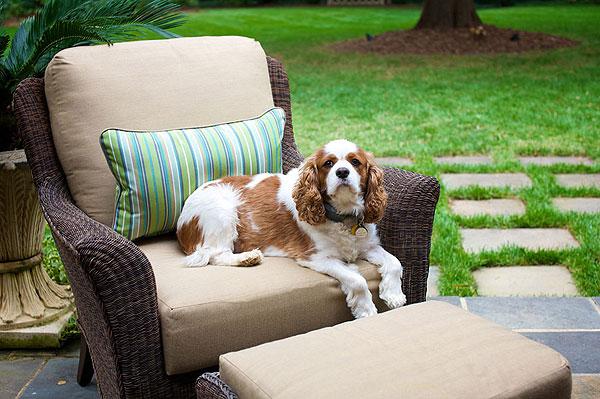 Photo by:
courtesy of Sunbrella
When it comes to living with pets, it's often a choice between the divan and your dog, the couch or your cat. But choose your fabrics carefully, and everyone can live in harmony together. Start outdoors where durable fabrics are already mainstay.
Consider a dog or cat bed made with durable Sunbrella fabric as part of your outdoor décor if you don't allow your pets on the furniture. But, if you're like me, and they have free reign, there's no need to worry. Sunbrella fabrics are highly cleanable, making them strong enough to stand up to Fido's muddy paws and tendency to roll around in the dirt.
If scratching is an issue with your cat, select a Sunbrella fabric with pile or surface interest such as Sunbrella chenilles or velvets. The surface texture is more forgiving than flatter fabrics such as plain canvas, and the soft hand and luxurious feel is a bonus for your two-legged family members.
To make clean-up a little easier, select cushions and pillows with zip-off covers so that you can throw them in the wash to clean up life's little disasters. For really tough stains, add a cup of bleach to the wash. Just remember not to machine dry your Sunbrella cushions or pet bed covers. Hang them up to dry, and they'll be ready for use in no time.
Now that you've conquered sharing your outdoor room with your pets, don't forget that Sunbrella is just as at home indoors. Check out the Sunbrella pets on the Sunbrella Facebook page, and be sure to upload photos of your pets spending a lazy day enjoying your outdoor room.