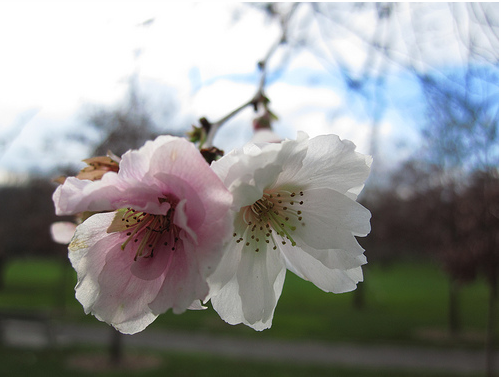 Photo by Rebecca Bullene, Brooklyn Botanic Garden
Here in New York, the Brooklyn Botanic Garden's annual cherry blossom festival is a huge attraction, as thousands of visitors walk around the park, observing the huge pink and white puffs of cherry blossoms that cover the trees in April and early May.
But last week, in December, a few of the cherry trees started blooming during a month that is normally more winter than spring. Brooklyn Botanic Garden curator Brian Funk told the garden's blog that while the everblooming cherry (Prunus 'Fudan-zakura') and the autumn-flowering cherry (Prunus x subhirtella 'Jugatsu-zakura') are known to bloom in December, it's rare for 'Prunus ' Hally Jolivette' to start budding in December. These flowers, said Funk, probably appeared as a result of a cold snap followed by warm weather.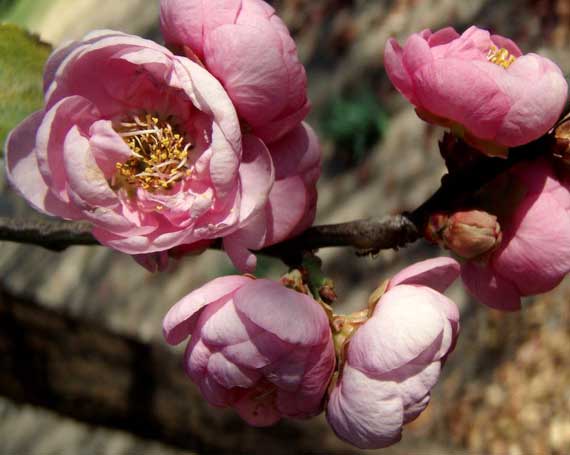 Japanese apricot, (Prunus mume 'Peggy Clarke) bloomed in January, 2007 in New York.
Photo by the Los Angeles County Museum

In 2007, early blossoms also appeared in January at the Brooklyn Botanic Garden, the Chicago Botanic Garden, and the Shanghai Botanic Garden, due to an unusually warm December, with camellias, snowdrops, and daffodils all appearing in the beginning of the year. Though this trend may signal the worrying effects of climate change, the trend toward warmer weather can also serve as an inspiration to home gardeners to try planting species that have been considered too delicate for their zones in the past.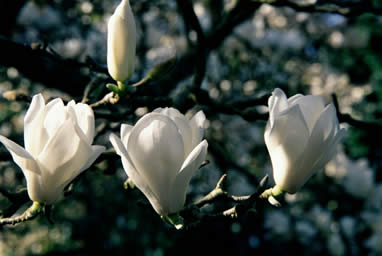 The Magnolia denudata (Yulan Magnolia) often blooms in January in San Francisco.
Photo by San Francisco Botanical Garden

In San Francisco, magnolias generally bloom in January, a rare sight for Northeast residents, where magnolias tend not to bloom until the spring. What about in your gardens? Are you covered in snow or are flowers peeking through unexpectedly? Tweet at us at twitter.com/GardenDesignMag or tell us on our Facebook page, facebook.com/gardendesignmag.