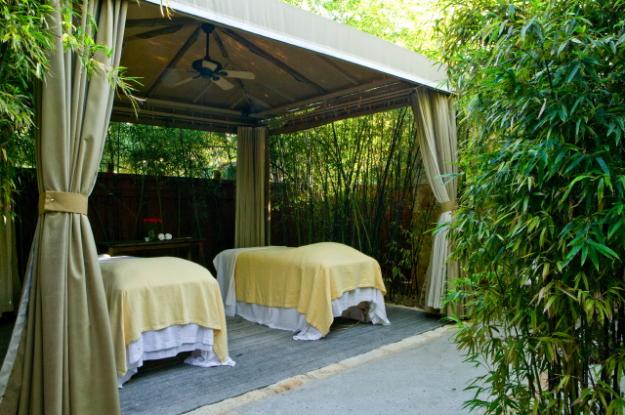 I've always thought of myself as a low-maintenance person and not one of the "ladies who spa," but maybe it's time to amend my ways. Being here in the cozy, nature-filled Lake Austin Spa Resort I've decided – pampering is good.
Out the door and across the courtyard I can take a yoga class or try out something called beaming, or just sit in a rocking chair and admire the lush scenery. At the restaurant there are three squares and snacks, all healthy, some of the ingredients from the spa's own kitchen garden. And the "uniform" for guests here is sweat pants and T-shirts.
It's been a revelatory experience.
How did I get so lucky? This week Garden Design and the resort are sponsoring the first "Gardening for Life!" program. And not only have I been finding time to "spa" a bit, I've been enjoying everything from garden tours to cooking demonstrations to classes on organic gardening, the history of landscape design, composting, and spa ingredients from the garden.
I was also treated to a private tour of the Lakeside Gardens by plant compadre and the Director of Flora and Fauna, Trisha Shirey, who's been the brains behind the landscape of the resort's 25 acres for the past 26 years. She has inspired me to expand the edible offerings of my little home garden.
Later today we will gather for an afternoon tea, with fresh ingredients from the garden – I'm especially looking forward to a sampling of mints.
Sunday morning: a spa treatment that will swaddle me in rose-scented balms. I also eyed a Lake Austin specialty called "Gifts of Our Garden." For that you peruse samples of herbs collected on the grounds and choose your favorite to be wrapped, showered and massaged with.
Next trip.