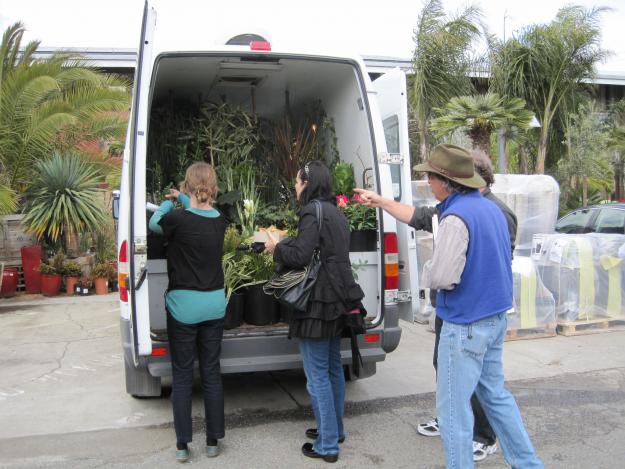 Passing through San Francisco last week, I made a quick trip to Flora Grubb Gardens where, without any advance notice, I was able to gab with both Jason Dewees (a Garden Design Contributor) and Flora Grubb. It's always energizing to be in a sun-filled and beautiful space filled with plants in every color and texture and containers that speak to you as art.
I'd just read about Flora's brother's wedding in the Sunday Styles section of the New York Times and had learned that the bride used succulents because she hates to kill flowers. The reception had been held at Flora's store and it was fun to see some of the designs used as table décor. I also learned about the new cut flower and design services that Flora added to the business about eight months ago, featuring only locally grown materials (watch for an upcoming feature in the July issue of Garden Design). Take a look at these gorgeous designs!
It was also good fun to be around when, not one, but two nursery guys came by on their monthly rounds to give Flora her pick of cool plants. I got to meet John Koegler from San Marcos Growers and Mike Craib from Suncrest Nurseries and our gathering naturally moved to just outside the open doors of John's traveling plant-truck.
Pictured from left: Flora, Christine Ciarmello (Sunset Magazine), Mike (in the hat) and John (sorry John, you got cut off – I was shooting on the fly). John was also kind enough to take the cellophane wrap off his brand new edition of Bob Perry's Landscape Plants for California Gardens and we all hung out, perusing the brilliant arrangement of content that is encyclopedic in its inclusion of California plants, and whose chapters uniformly addresse water use and water budgeting for garden design.