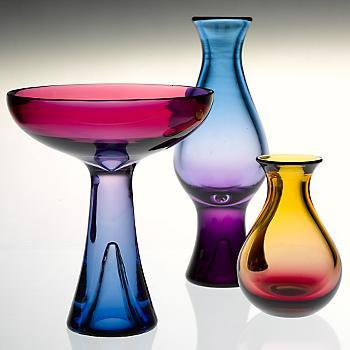 Living for more than a century is a feat for anyone, but living to 104 and still working as one of the world's most celebrated designers? Now that's truly spectacular. But of course, for Eva Zeisel, who turned 104 on Saturday, November 13, longevity and style have always been her trademarks.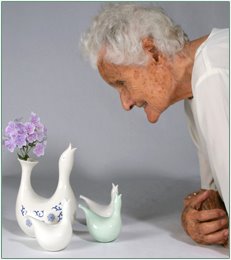 "Novelty is a concept of commerce, not an aesthetic concept." --Eva Zeisel
Zeisel peers at three salt and pepper shakers, originally deigned for the Western Stoneware Company in 1953. Now available from Eva Zeisel Originals for $48. The vase is from the Schmid Eva Zeisel Ironstone line, decorated with the Stratford pattern and introduced in 1964.
Zeisel's work is sold in stores across the country, including Crate and Barrel and Bloomingdale's, making many of her designs affordable and easily accessible. For a birthday tribute to this amazing woman, we've put together a few photos of some of our favorite Zeisel vases available today.
"Makers of things make things more beautiful, more elegant, more comfortable than just the craftsmen do." --Eva Zeisel
These handblown colorful vases, from Gump's, in San Francisco, range in price from $850 to $1,150.
Eva Stricker was born in Budapest, in 1906. While growing up in Hungary, she trained as a potter and at the young age of 29, she became the artistic director of the Soviet ceramics industry. In 1936, Zeisel was accused of plotting against Joseph Stalin and imprisoned for 16 months in solitary confinement. (She survived, she says, by thinking pragmatic thoughts like "How would I construct a good bra?") After her release, Zeisel moved to Vienna and married her husband, Hans Zeisel, and soon after, in 1938, the couple moved to New York, where Zeisel has lived for the past 72 years.
"I made the things particularly because I wanted them to see the world."--Eva Zeisel
Porcelain vases from Room & Board, from $69 to $149.
In an interview with Zeisel on New York Social Diary, photographs show Zeisel's New York City apartment. Filled with plants and her pottery, the apartment includes displays of her empty vases, a few clustered around a potted houseplant here and there. Zeisel's pieces are so sculptural and beautiful that they're perfect for a tabletop with or without flowers.
"If you think of beautiful things, you're not sad."--Eva Zeisel
Photograph by Jeffrey Hirsch, New York Social Diary.
A photograph of Zeisel's apartment shows a cluster of her KleinReid vases in her living room, which range from $56 to $850.
And be sure to check out the inspiring video of Zeisel's TED talk here, where we've excerpted some of our favorite quotes for captions above.