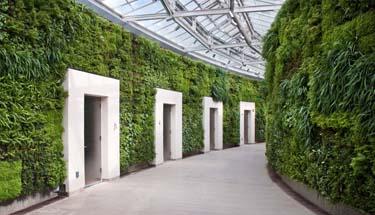 Photo by:
Longwood Gardens
Just a few weeks ago, Longwood Gardens in Pennsylvania debuted North America's largest green wall. Just how large is this record-breaking wall? 4,072 sq feet. That's just a bit smaller than the size of two tennis courts, and that's 70% larger than the former record holder, the PNC Building's green wall, unveiled last year. A few factoids about the Longwood green wall:
The wall is made up of 47,000 plants
It's punctuated by doorways to 17 new bathrooms
It provides as much oxygen as 90 moderate height trees
It contains a 3,800 foot vertical drip irrigation system
A computerized monitoring system tracks water usage 24/7
The wall contains no actual soil. Instead the 3,595 panels are filled with a long-lasting, light-weight growth medium
But that's just North America's largest green wall. The world's largest green wall is four times bigger—16,404 sq. feet—and debuted this February in Shanghai.
Of course, supersize isn't the only size. Order up a nice kitchen-size wall and you can get a piece of the green wall action, no drip irrigation extravaganza required.