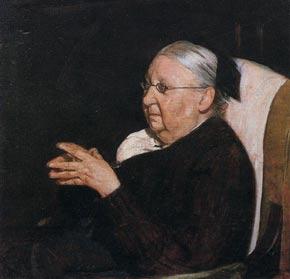 Gertrude Jekyll, by Sir William Newzam Prior Nicholson
© National Portrait Gallery, London
Gertrude Jekyll, the influential British gardener, was also a prominent figure in the world of flower arranging. Jekyll had a painterly view toward garden design and her belief in the importance of color and texture were key elements in her ideas about flower arranging. When she wrote Flower decoration in the house, published in 1907, Jekyll made a reference to the difficulty in finding suitable vases for her arrangements, writing, "[Vases] were nearly always of a trumpet shape, widest at the lip and tapering down to a point just where it is most desirable to have a large quantity of water... It was so evident that flower-glasses of useful shapes and good capacity were wanted that I drew some shapes and had them made in a non-expensive quality of glass." (Amazing how little has changed in a century!) The resulting vases, designed to be sold at reasonable prices, were named the Munstead Flower Glasses. They were manufactured in the 1880s and onward, showcased in the Flower decoration in the house, and became quite popular in British homes.

And then they disappeared. About five years ago, Jekyll's great-great niece Christina Freyberg discovered a catalog featuring the vases and became determined to reintroduce the vases to the marketplace. After a long search for the original designs and for a manufacturer who could produce the glasses, Freyberg has finally launched a line with five of her great-great aunt's vases, available for the British public to buy once again. Simple, functional, and modern, these vases are clearly designed by a gardener who wanted a way to showcase the splendors of her garden with no fuss.
Flower decoration in the house is now available online, for free, through Google Books. Page through it and be inspired by the century-old manual to displaying flowers at home throughout the year. And visit the Gertrude Jekyll Designs website to find sources to buy the vases and to see the complete line.