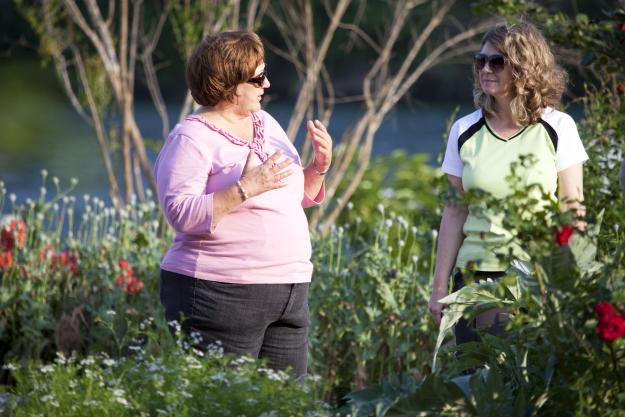 Back home now from the Gardening for Life experience at Lake Austin Spa Resort and trying to reclaim my usual routine. I was there just long enough to get really cozy — I was starting to imagine I lived there!
Some mental snapshots from the trip:
*Garden writer/lecturer Amy Stewart bundled up in her plush white resort robe heading to the spa to soak in a hot tub. Her talk on "The Global Garden" had attendees chuckling about the container of earthworms spilling over in her car.
*Garden Design photographer Jon Whittle trying to coax a little green lizard out from cardoon foliage for a portrait.
*The deviled egg contest at the tea reception. I still can't decide which is tastier — Pam Blanton's Nanny's Funeral Eggs, or Trisha Shirey's Flower Confetti version, sprinkled with blossoms and herbs from the resort's garden. Man, I love deviled eggs!
*Robbie Hudson, director of programming at the resort, sitting down for a garden consultation with me — I hope I gave you some useful ideas!
*Having lunch with Janie who's been coming to the spa with her daughter Kimberly for years, and getting a bit of a history lesson about the place.
*A Texas Tomato Cage, wide and tubular, and it folds up flat. I've got to get some of those.
*Seeing a meditation class walk through the gardens, smelling the herbs and recharging.