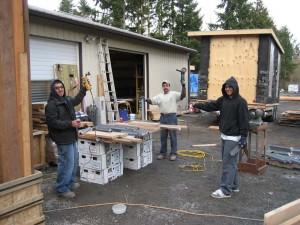 I have been wondering how much to reveal about the design of this garden we're creating for the Northwest Garden Show prior to the show. I like the secrecy and anticipation that these shows seem to naturally generate among the participants. Since this is my first time creating a garden in a show, I don't know the whole protocol about what would be acceptable to share. My experienced comrades who are building or supplying things are taking me under their wing and giving me the ins and outs of garden shows don't-ask-don't-tell policy. You might have noticed how few garden creators have posted their floor plan or any kind of sketch of what they are planning on the shows website. And the organizers do ask regularly for any prep pictures or stories to tease and cajole the largest audience possible. But alas, secrecy prevails.
I must admit I have held back. I have pictures of the incredible green walls being created by T & L Nursery but have not yet posted them. But today, after seeing the great progress of the rooftop penthouse that Brent is building I realize I must break this unwritten rule and start revealing. I'm just so darned honored by the tremendous work being done by people passionate about making things well that I am pledging to show a new picture every day.
Today's achievement: the redwood tongue and groove ceiling, set off by Eldorado Stone's fantastic wall. Now if only the tiles and the windows showed up it would be perfect. Oh well we have ten more days?plenty of time, right Brent? Hey, I heard the solar panels came, that's something!