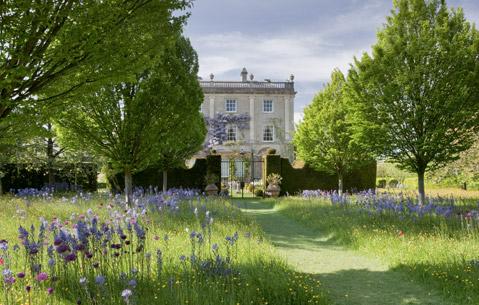 The wildflower garden leading up to Highgrove.
For fans of gossip about Britain's Royal Family (such as your esteemed correspondent), today's announcement that Prince William is engaged to his long-time girlfriend, Kate Middleton, is just the beginning of many months of wedding speculation. As anyone who has been married knows, well wishers will insist on intoning about how it's "about the marriage, not the wedding." One rolls one's eyes at that comment. But since information about the impending nuptials is minimal, we will just have to talk today about one of the favorite royal hobbies: gardening.
Middleton's future father-in-law, Prince Charles, is known for his love of gardening and was mocked quite a bit in the 1980s when he revealed that he talked to his plants. But his passion for organic gardening has been redeemed in the intervening decades, as the Prince of Wales successfully transformed Highgrove, his country estate, into a leading example of sustainable and organic gardening techniques, reflecting a green mindset that has since become a hugely popular trend for farms, restaurants, and gardens. Or as His Royal Highness is quoted as saying on Highgrove's webpage: "It is better to work with Nature than against it."
Queen Elizabeth II and her husband, Prince Philip, the Duke of Edinburgh, talk with a gardener in the royal gardens.
As for Her Majesty, Queen Elizabeth II, she's no gardening slouch either. In addition to the vast gardens that are part of her palaces, the Queen (or rather, her gardeners) started a vegetable patch in the Royal Gardens last year. (If one is wondering, one grows runner beans, leeks, beetroot, and an endangered variety of climbing French beans called Blue Queen, in the royal gardens.) The Queen, as Patron of the Royal Horticultural Society, also attends the opening of the Chelsea Flower Show every year, an event designed to encourage amateur gardeners to grow similarly abundant displays at home.
We hope Middleton has read Prince Charles's book The Elements of Organic Gardening--there's nothing like a good chat about compost to impress the future in-laws.