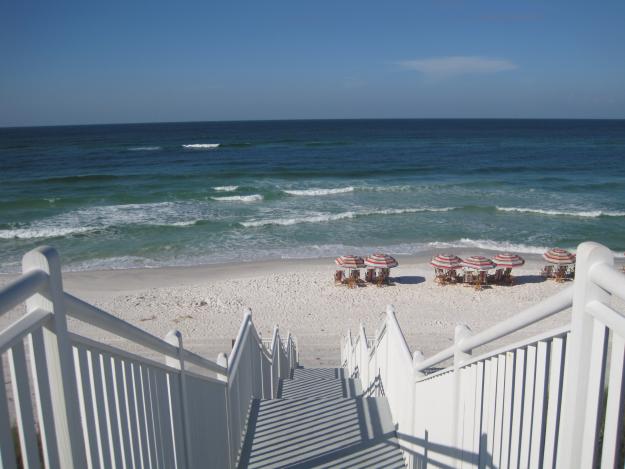 "So what's up with the beach?" you may wonder. I'm just back from a research trip to Florida's Panhandle – the Beaches of South Walton, just west of Destin – to be precise. I'll tell you a bit about that in a moment, and why it matters to Garden Design.
But here's the deal. Yes, Hurricane Alex was working its way through the Gulf while I was there, and yes, oil was just three miles off the coast, according to my contact at the county's Tourist Development Council. But I walked the beaches at Rosemary and Alys Beach two mornings in a row, and I drove west to check out the blindingly white sand and dunes at Grayton Beach and guess what? It's all still white! No oil in sight. That's not to say that things won't change on a day-by-day basis or that they haven't seen some tar balls, but the point is, don't cancel your trip. And seriously, there is so much to do in the beach communities along scenic route 30A that the beaches are far from the only draw. Oh, one more thing. With the opening of the new International airport in Panama City Beach, the Beaches of South Walton finally have easy access. I took a one hour direct flight from Orlando and drove 25-minutes from the airport.
I get that this may all sound like a PR speech. But I'm a true believer in this very special place. And just like New York City after 9/11 (where I lived at the time), the Beaches of South Walton are need of visitors to keep coming and enjoying themselves – yoloing (that's stand-up paddleboarding) and kayaking on the incredible dune lakes, cycling on the well-planned bike paths that connect all of the beach communities, taste testing grouper sandwiches from the old time Seagrove Village Market Café to the refined version at Gravel Road, watching outdoor movies with your family on the village green at Rosemary Beach and toasting sunset on a packed upper deck at Bud&Alley's in Seaside.
I was there for a closer look at the public garden spaces at Alys Beach, which we'll be featuring in the September issue of Garden Design. Alys Beach is a Mediterranean-inspired green community claiming a pristine slice of Florida's Gulf Coast along the highly desired Route 30A. Reinvisioning New Urbanism design by banishing the front-porch hallmark of the movement, Alys Beach instead provides each family privacy within walled, courtyard homes that truly integrate indoor and outdoor living, while strategically placing stylish and alluring community garden spaces within walking distance to help keep people connected. Our story looks at the key role landscape architecture plays in creating this beachside Utopia.