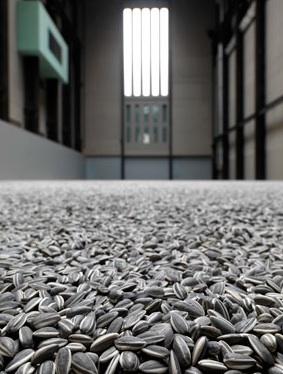 Last month, Chinese artist Ai Weiwei filled a hall at the Tate Modern in London with 100 million porcelain sunflower seeds. The seeds in the "Sunflower Seeds" installation look completely authentic, but instead of harvesting them from actual sunflowers, Ai commissioned craftsmen in Jingdezhen, China to individually sculpt and paint each seed. Cool to look at, but even cooler to walk on! On the day the exhibition opened (October 11) visitors to the gallery were allowed to maneuver their way across the carpet of seeds. Sadly, that didn't last.
Four days later the Museum put a ban on seed stomping. Apparently, the "enthusiastic interaction of visitors" was leading to a porcelain dust cloud, which the Tate feared could be "damaging to health following repeated inhalation over a long period of time."
But, don't worry, the exhibit is still open — it runs through May 2, 2011. And while the seemingly infinite landscape of sunflower seeds is slightly less tactile now, it's no less impressive when viewed from the walkway above the hall.
Get all the details on the exhibit on the Tate Modern's website.