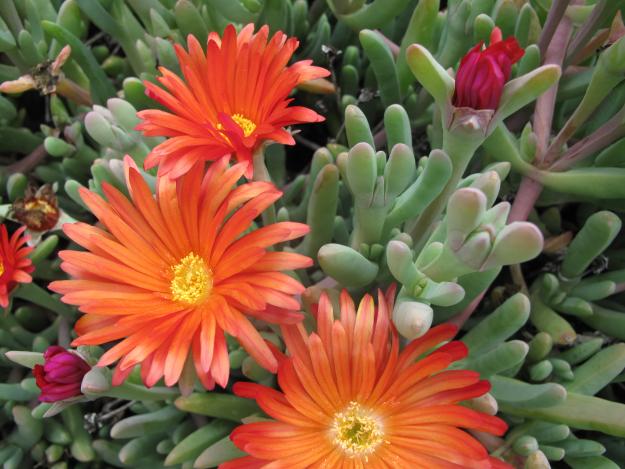 Last week at Rancho La Puerta, the fabulous fitness resort in Tecate, Mexico whose gardens are one of life's great pleasures, I took a Landscape Garden Walk with Enrique Ceballos, the person most responsible — after Sarah Livia Brightwood, daughter of the Ranch's founders and a landscape architect — for the phenomenal landscaping of the Ranch's eight exuberantly cultivated acres. A former botany professor, Enrique has been involved with the Ranch since 1988 and knows everything there is to know about its horticultural bounty.
The aesthetic intent of the landscape design, he told us, is to create "an abstraction of the chapparal inside the garden," with contours and rhythms that echo the shapes of the surrounding Sierra Juarez mountains.
The Ranch uses either native plants or eco-equivalents – plants from similar climatic conditions, particularly the Mediterranean region, which are not native, but thrive and grow like natives. A ubiquitous example is rosemary, which I never once walked past without picking a sprig and holding it to my nose. It was introduced to Baja by Franciscan monks from Italy, Enrique told us.
To read about the highlights of our walk and see lots more pictures, go to my blog, casaCARA.