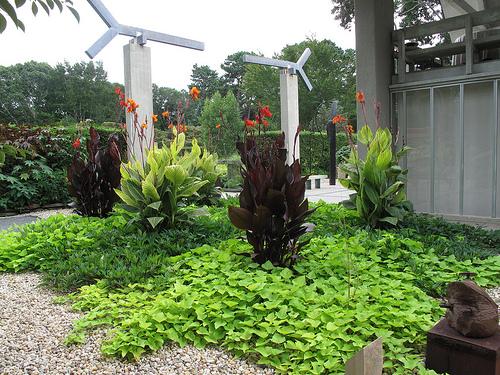 Photo by: Cara Greenberg
I visited LongHouse Reserve in East Hampton, N.Y., textile designer/scholar/collector Jack Lenor Larsen's monumental undertaking, for the first time last May. It completely changed my view of the interaction of art and nature, and enhanced my appreciation of both. In the spring, azaleas and roses were among the main horticultural attractions. In late August, I returned to find late-blooming hydrangeas, ornamental grasses in their prime, elephant ears and annual vines at maximum size and spread.
You have until October 9, when LongHouse closes for the season, to visit and be wowed. It's open only six hours a week, Wednesdays and Sundays, from 2-5PM. Admission is $10. You couldn't spend a more awe-inspiring afternoon.
For more pictures of LongHouse, please pop over to my blog, casaCARA