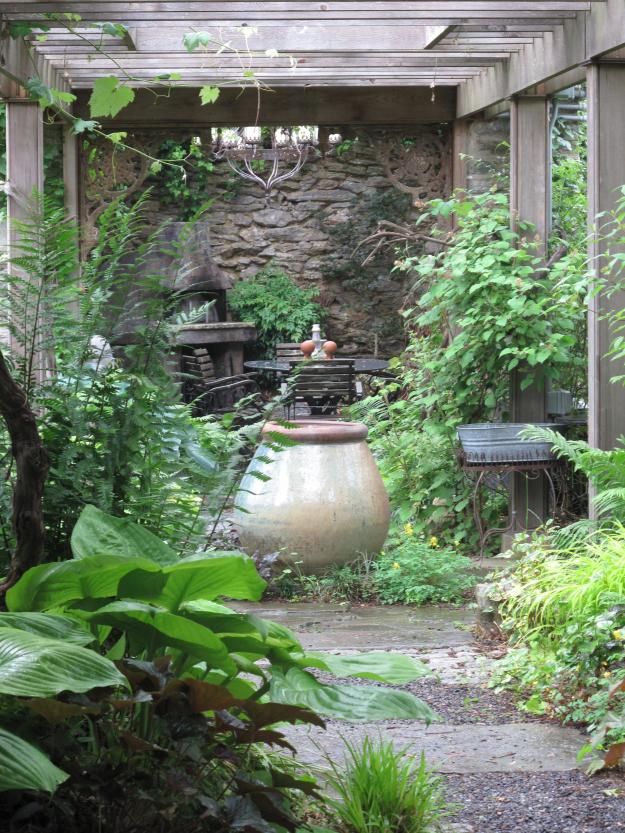 Last Sunday, I discovered Philadelphia's Mount Airy section for the first time, a neighborhood of old stone houses with deep front yards, where residents grow a colorful bounty of flowering plants with obvious joy.
A cluster of eight artful urban gardens, all within a few blocks of each other, was open to the public as part of the Garden Conservancy's Open Days program. My favorite was Lindsay Weightman's and Hani Zaki's imaginative backyard retreat, a testament to all one can do in the shade. The garden includes a grape arbor, water pots, and multi-level decking; the piece de resistance is an atmospheric 'outdoor room' built of stone, complete with dining table, chandeliers, and an old-fashioned pizza oven. The homeowners, who are from England and Egypt, incorporated exotic artifacts and architectural salvage, collected on their travels, into the garden's structure...
To read more and see more pictures of this and other Mount Airy gardens, please hop on over to my own blog, casaCARA.