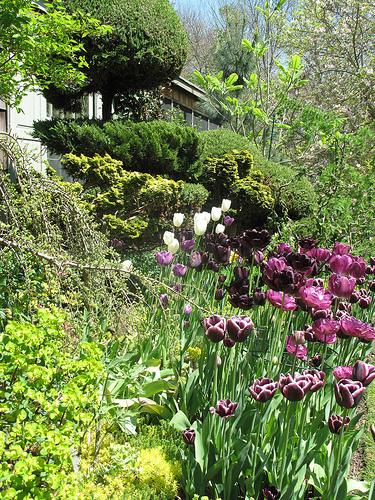 LAST SATURDAY, as part of the Garden Conservancy's Open Days program, I got a first-hand look at the unconventional talents of Dianne B, former fashion-world celeb, now East Hampton, N.Y.-based gardener, garden goods retailer, garden blogger, garden writer, and all-round garden muse.
Her property is like an art installation, with sculptures, contorted trees, bizarre topiaries, and unusual color combos. If it weeps or twists, Dianne has it. The garden is dramatic, bohemian, fun, and different, and so is Dianne herself, traipsing about in Vita Sackville-West-inspired jodphurs and leopard-skin-patterned boots, with a long mirrored stick in hand, the better to view the undersides of fritillaria.
For more pictures of Dianne B's bold and original backyard, head on over to my own blog, casaCARA.