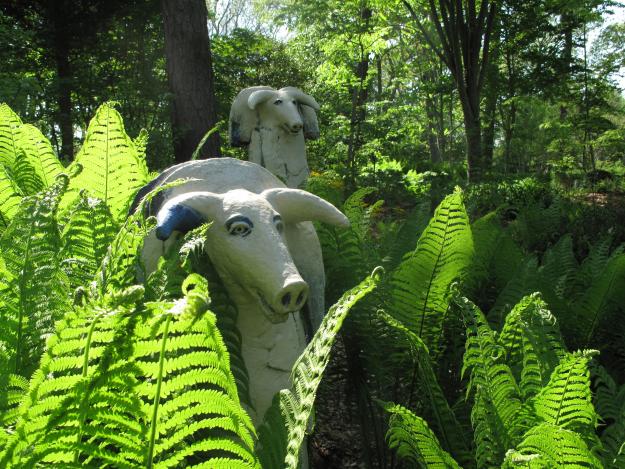 Photo by: Cara Greenberg
I USED TO THINK SCULPTURE IN GARDENS was superfluous. That was before I visited LongHouse Reserve, the 16-acre 'designed landscape' owned by textile designer Jack Lenor Larsen in East Hampton, N.Y. The entire spread is a three-dimensional work of art, startlingly beautiful and original. And varied: the first bold stroke, as you enter, is a dunescape created around the Shinto temple-inspired home Larsen built in 1986 (he's owned the property since 1970). Then there's the gaudy Red Garden, a riot of clashing azaleas at peak bloom right now; a grassy amphitheatre sculpted out of the earth; dry river 'screes' full of chartreuse euphorbia. Dells, canyons, allees, lawns, borders, paths, ponds, and pools... one area flows smoothly into the next, yet somehow each manages to surprise you as you come upon it.
The sculpture never looks out of place or forced or self-conscious, but magnificently chosen, scaled, and sited. There are many famous names among the 60 large-scale installations: glass by Dale Chihuly, a Willem de Kooning bronze, ceramics by Takaezu, an all-white chess set by Yoko Ono, works by Sol LeWitt, Louise Bourgeois, Peter Voulkos. Not inscrutable modern art, but accessible and wholly delightful.
Until July, LongHouse is open only six hours a week, Wednesdays and Saturdays from 2-5PM. You couldn't ask for a more inspiring afternoon.
For lots more pictures of LongHouse Reserve, pop over to my blog, casaCARA.